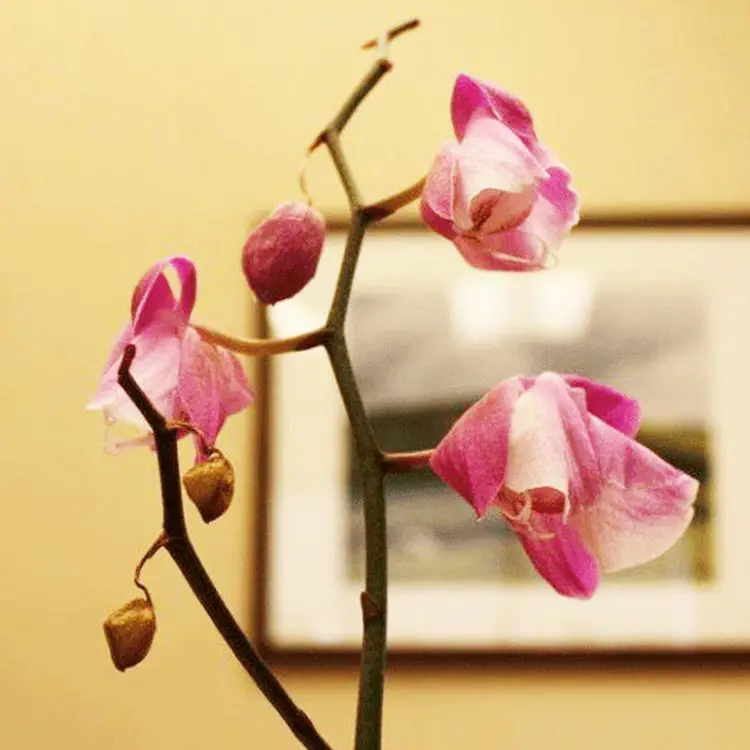 Last Updated on July 8, 2023
There are many reasons why orchids wilt. One reason is that the orchid does not have enough water. When the orchid does not have enough water, the leaves will start to droop and the flowers will start to wilt.

Another reason why orchids wilt is because of too much sun. If the orchid is in direct sunlight, the leaves will start to turn yellow and then brown. The flowers will also start to fade and fall off.
Why Orchids Wilt Orchids are a beautiful and popular type of flower, but they can be finicky to care for. One common problem that orchid owners face is wilting.

Why do orchids wilt? There are a few reasons. One reason orchids wilt is because they're not getting enough water.

Orchids need to be watered regularly, but not too much. Overwatering can cause the roots to rot, which will lead to wilting. Make sure you're watering your orchid about once a week, using room-temperature water.

Let the pot drain completely after watering so that the roots don't stay wet. Another reason orchids wilt is because they're not getting enough light. Orchids need bright, indirect sunlight in order to thrive.

If your orchid isn't getting enough light, it will start to wilt. Move it to a brighter spot and see if that helps revive it. Lastly, sometimes orchids wilt because they're stressed from being moved around too much.

Orchids like stability, so if you've been moving your plant around a lot, that could be the cause of its wilting problems. Try to keep your orchid in one spot and see if it starts to look better soon.
Orchid with Fusarium Wilt infection
Will Wilted Orchid Flowers Come Back?
Orchids are one of the most popular houseplants, and for good reason! They're beautiful, long-lasting, and relatively easy to care for. However, even the best gardeners can sometimes run into problems with their orchids, one of which is wilted flowers.

If you find that your orchid's flowers are looking a little droopy, don't despair! There's a good chance that they can be revived. Here are a few tips on how to revive wilted orchid flowers:

First, check the moisture level of the soil. If it's too dry, water your plant thoroughly and wait a few hours to see if the flowers perk up. If they don't, you may need to give them a little boost by misting them with lukewarm water.

If the soil is too wet, on the other hand, you'll need to let it drain before watering again. You can also try moving your plant to a spot with better air circulation to help dry out the soil more quickly. Once you've determined that the soil is at the right moisture level, take a look at the temperature in the room where your orchid is located.

Orchids prefer warm (but not hot) temperatures, so if it's too cold in the room, move your plant closer to a heat source. Conversely, if it's too hot in the room (or if there isn't enough humidity), move your plant away from any sources of heat and try misting it more often. Finally, make sure that your orchid is getting enough light.

Orchids do best in bright indirect sunlight – so if yours is sitting in a dark corner of the room, move it closer to a window. But beware of placing it directly in front of an sunny window as this could scorch its leaves!
What Causes Orchid Flowers to Wilt?
Orchid flowers are beautiful and delicate, but they can be quite finicky. One of the most common problems that orchid growers face is wilting flowers. There are a few different reasons why this might happen, so it's important to figure out which one is affecting your plant.

One common cause of wilting orchid flowers is insufficient watering. Orchids need to be watered regularly, but not too much – if their roots are constantly wet, they will start to rot. Conversely, if they're not getting enough water, their leaves will start to droop and the flowers will wilt.

If you think your orchid isn't being watered enough, check the soil – it should be moist but not soggy – and increase the frequency of your watering schedule accordingly. Another possible reason for wilting flowers is high temperatures. Orchids like it cool – around 70 degrees Fahrenheit during the day and 60 degrees at night.

If it's too hot where you're keeping your orchid, the flowers will start to wilt and fall off. Make sure that you're not keeping your plant in direct sunlight, as this can also make the temperature rise too high for comfort (and for blooming). If you've ruled out both of these possibilities, then there could be something wrong with the flower itself.

Sometimes an orchid flower will wilt even though the plant is healthy – this is just part of its natural life cycle. The flower will eventually fall off and new buds will take its place. Don't worry – this is perfectly normal!
Should I Remove Wilted Orchid Flowers?
If your orchid has wilted flowers, you may be wondering if you should remove them. The answer depends on the type of orchid and the stage of its bloom cycle. Some types of orchids, such as phalaenopsis and cattleya, will produce new blooms on the same stem as the wilted flower.

In this case, it's best to leave the wilted flower in place until a new bloom appears. This way, you can support the new bloom with the old one. Other types of Orchids: dendrobiums, paphiopedilums, and vandas will only produce blooms once per season.

Once these flowers have withered, they cannot be replaced. You can safely remove them without affecting future blooming. When in doubt, consult an expert before removing any flowers from your orchid plant!
What Does an Overwatered Orchid Look Like?
An overwatered orchid looks like it is wilting and its leaves are turning yellow or brown. The roots may also be discolored and mushy. If you think your orchid is overwatered, stop watering it and allow the potting mix to dry out completely before watering again.
Credit: www.gardenerreport.com
How to Revive Wilted Orchid Flowers
If you have an orchid that is looking a little worse for the wear, don't despair! With a little TLC, you can revive your plant and get it blooming again. Here's how:

First, check to see if your orchid is truly wilted. If the leaves are droopy and the stem is limp, it's probably dehydrated. Give it a good watering, making sure to drench the roots thoroughly.

If the potting mix is dry several inches down, it's time to water. Once you've watered your orchid, place it in a bright spot out of direct sunlight. Orchids like lots of indirect light.

If possible, set up a humidifier near your plant to help increase humidity levels. Orchids thrive in moist environments. Next, assess your orchid's potting situation.

Is it time for a new pot? If so, repot your orchid into fresh potting mix made specifically for orchids. Be sure not to damage the roots when repotting and water well afterwards.

Finally, give your orchid some fertilizer made for blooming plants every other week during the growing season ( spring and summer). This will help encourage new growth and vibrant flowers . With a little love and attention, you can bring your wilted orchid back to life!
Why are My Orchid Leaves Wilting
If your orchid leaves are wilting, it's likely due to one of three things: too much sun, not enough water, or pests. Too Much Sun Orchids need bright light, but too much sun can cause their leaves to wilt.

If you think this might be the problem, move your orchid to a shadier spot. Not Enough Water Orchids like to be kept moist, but not wet.

Water them thoroughly when the potting mix feels dry to the touch. letting the potting mix dry out completely will cause the leaves to wilt. Be careful not overwater as that can also lead to leaf drop and root rot.

Pests Mealybugs, aphids, and other pests can infest your orchid and suck the moisture out of its leaves causing them to wilt.
Can Wilting Cause Orchids to Stop Flowering?
Wilting can indeed cause orchids to stop flowering. Moisture is crucial for these delicate plants, and when they experience prolonged dehydration, their ability to produce blooms is severely affected. Lack of water disrupts their natural growth cycle and hinders their reproductive processes. Maintaining proper hydration levels is key to preventing the issue of why orchids don't flower.
Revive Wilted Orchid Leaves
If your orchid leaves are looking wilted, there's no need to panic! With a little TLC, you can revive your plant and get it looking healthy again. Here's what to do:

First, check the roots of your plant. If they're soft or mushy, that's a sign that the plant is overwatered. Cut back on watering and allow the plant to dry out somewhat before watering again.

If the roots look healthy but the leaves are still wilted, it could be a sign of too much sun exposure. Move your orchid to a shadier spot and see if that does the trick. If you suspect your orchid is getting too much or too little water, take a closer look at your watering habits.

Watering once a week is usually sufficient, but be sure to check the soil before watering to make sure it's actually dry. Overwatering is one of the most common causes of leaf wilting in orchids, so err on the side of caution!
Conclusion
If you have ever wondered why your orchid wilts even though you water it regularly, you are not alone. Many people think that they are doing everything right when it comes to taking care of their orchids, but the plant still ends up looking sad and wilted. There are a few reasons why this might happen.

One reason could be that you are overwatering your orchid. Orchids need to dry out completely between watering, so if you water them too often, the roots will start to rot and the plant will wilt. Another possibility is that you are not providing enough humidity for your orchid.

These plants like to live in moist environments, so if your home is on the dry side, your orchid may suffer. You can increase the humidity around your plant by placing it on a pebble tray or using a humidifier. Finally, another common reason for anorchid to wilt is that it is not getting enough light.

Orchids need bright indirect light in order to thrive, so if yours is sitting in a dark corner of the room, it may be time to move it closer to a window. If you follow these tips and give your orchid what it needs, you should see a big improvement in its health!
Resources: