Are Dendrobium Orchids Easy to Grow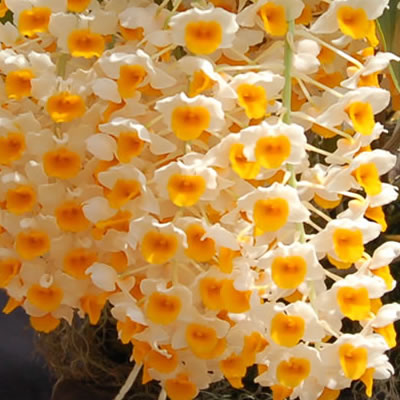 Last Updated on July 8, 2023
Dendrobium orchids are a type of orchid that is native to Asia, Australia, and the Pacific Islands. They are easy to grow and make good houseplants. Dendrobiums come in many different colors, including white, pink, purple, and yellow.

The flowers are typically small and have a sweet fragrance.
Dendrobium Orchid Growing Guide
If you're thinking about adding a dendrobium orchid to your home, you might be wondering if they're easy to grow. The answer is yes! Dendrobiums are relatively low-maintenance plants, and they can thrive in a wide range of climates.

One of the best things about dendrobiums is that they don't require a lot of watering. In fact, it's important not to overwater them – too much moisture can lead to root rot. Allow the soil to dry out completely between waterings, and then give them a good soak.

Another thing to keep in mind is that dendrobiums need bright light, but not direct sunlight. A spot near a window should work perfectly. If your plant starts to produce long, spindly leaves, it's an indication that it's not getting enough light.

When it comes to temperature, dendrobiums prefer warm conditions – around 70 degrees Fahrenheit is ideal. They can tolerate some fluctuations outside of this range, but sudden changes can shock the plant and cause problems. As long as you provide your dendrobium with the right growing conditions, it should be relatively easy to care for.

With proper care, these beautiful plants can bloom for years to come!
When Do Dendrobium Orchids Flower
When Do Dendrobium Orchids Flower? Dendrobium orchids are one of the most popular types of Orchids, and they are known for their ability to bloom multiple times a year. But when do these beautiful flowers actually bloom?

The answer is: it depends. Each type of dendrobium orchid has its own blooming schedule, so you'll need to consult a expert (or do some research) to figure out when yours is likely to flower. However, there are some general tips that can help you determine the best time to expect blooms.

In general, dendrobiums bloom during the spring and summer months. If you live in a climate with distinct seasons, then your orchid will probably bloom sometime between April and September. But if you live in a more tropical climate, your dendrobium may bloom year-round!

To encourage your dendrobium to bloom, make sure it's getting plenty of bright light but not direct sunlight (which can scorch the leaves). Also, be sure to water regularly but not too much – letting the roots get too soggy can cause problems. Finally, fertilize every few weeks using a balanced fertilizer designed specifically for orchids.
Dendrobium Orchid New Shoots
Orchids are amazing flowers that come in all shapes, sizes, and colors. The dendrobium orchid is one of the most popular types of Orchids. They are easy to grow and care for, and they make beautiful houseplants.

If you have a dendrobium orchid, you may have noticed that it produced new shoots. These new shoots are called pseudobulbs, and they will eventually produce leaves and flowers. It is important to know how to care for these new growths so that your orchid can thrive.

Here are a few tips for caring for dendrobium orchid pseudobulbs: -Place the pseudobulb in a pot with well-draining soil. Water regularly, but do not overdo it as this can lead to root rot.

-Give the pseudobulb plenty of light, but avoid direct sunlight as this can scorch the leaves. An east-facing window is ideal. -Fertilize monthly with a balanced fertilizer formulated for orchids.

Be sure to follow the package directions carefully so that you do not overfertilize and damage your plant.
How to Plant Dendrobium Orchids
Dendrobium orchids are some of the most popular and beautiful flowers in the world. Though they're often thought to be difficult to grow, with a little bit of know-how, anyone can successfully cultivate these stunning blooms. Here's everything you need to know about planting dendrobiums:

When to plant: Dendrobiums can be planted at any time of year. However, for best results, it's recommended that you plant them in the spring or fall. Where to plant: Choose a spot in your garden that gets plenty of bright, indirect sunlight.

These flowers need lots of light to thrive, but too much direct sun will scorch their leaves. What type of potting mix to use: A well-draining potting mix is essential for dendrobiums. You can either purchase a commercial potting mix formulated for orchids, or make your own by mixing together equal parts peat moss, perlite, and coarse sand.

How to plant: Start by soaking your dendrobium bulbs in lukewarm water for 24 hours before planting. This will help them absorb moisture more easily when placed in the potting mix. Once soaked, gently place the bulbs into the potting mix so that they're just barely covered.

Water thoroughly and then place the pot in an area with bright indirect light. Allow the soil to dry out completely between waterings (about once a week). In no time at all, you should see new growth emerging from your bulbs!
How to Water Dendrobium Orchids
Orchids are one of the most popular houseplants, and for good reason! They're beautiful, unique, and relatively easy to care for. But even with easy-care plants like orchids, there's always a chance for problems.

One of the most common issues with orchids is incorrect watering. If you're having trouble getting your orchid to thrive, make sure you're not making any of these common mistakes: 1. Overwatering

The number one mistake people make when watering orchids is giving them too much water. Orchids are native to tropical climates where they grow on trees and rocks, so they're used to being in well-drained areas. When you overwater an orchid, the roots can start to rot, which will eventually kill the plant.

To avoid overwatering your orchid, water it only when the potting mix is dry to the touch. A good rule of thumb is to water once a week, but this will vary depending on the type of potting mix you use and the temperature/humidity levels in your home. If you're not sure whether your plant needs water, stick your finger into the potting mix – if it feels dry several inches down then it's time to water.

2. Underwatering While overwatering is the most common mistake people make with their orchids, underwatering can also be an issue. If you don't give your plant enough water it will start to wilt and its leaves will turn yellowish-brown.

In extreme cases, an underwatered orchid can die. To avoid underwatering your plant, make sure you keep an eye on its leaves – if they start to look wilted then it means they're not getting enough moisture from the air around them and it's time to give them a drink! 3) Using Tap Water

One final mistake that people often make when watering their plants is using tap water instead of filtered water (or rainwater). The chemicals in tap water can build up over time in pots and damage sensitive root systems – this is especially true for plants like orchids that have delicate roots.
Dendrobium Orchid Meaning
The dendrobium orchid is a beautiful and popular flower that has many different meanings. In the Western world, the dendrobium orchid is often seen as a symbol of love and beauty. However, in Eastern cultures, the dendrobium orchid can have different meanings.

For example, in China, the dendrobium orchid is seen as a symbol of good luck. The dendrobium orchid is a member of the Orchidaceae family and is native to tropical and subtropical Asia. The plant can be found in countries such as Vietnam, Thailand, Laos, Cambodia, and Indonesia.

The dendrobium orchid typically blooms in the spring and summer months. There are over 1,000 different species of dendrobium orcids. The most common type of dendrobium orcid is the Dendrobium nobile which has long been used in traditional Chinese medicine.

The Dendrobium nobile has numerous health benefits including boosting immunity, reducing inflammation, and helping to fight cancer cells. In addition to its medicinal properties, the Dendrabrium nobile is also known for its ability to purify water. The meaning of the dendrabrium orchid varies depending on culture but overall it is seen as a positive symbol signifying beauty, love, good luck ,and health .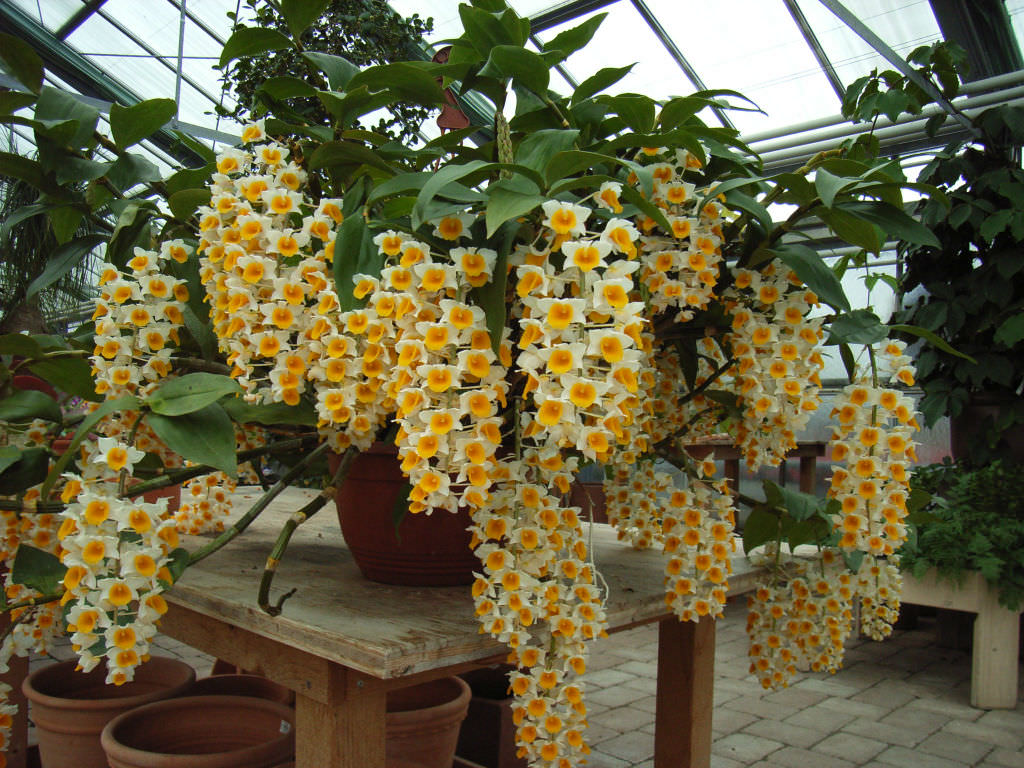 Credit: worldoffloweringplants.com
Where is the Best Place to Put a Dendrobium Orchid?
When it comes to finding the best place to put a Dendrobium orchid, there are a few things you will want to take into consideration. First, these beautiful flowers thrive in humid environments, so placing them in a room with a humidifier is ideal. Secondly, they enjoy bright indirect sunlight, so a spot near an east- or west-facing window would be perfect.

Lastly, make sure to keep your Orchid's potting mix moist but not soggy – allowing the top inch of soil to dry out between watering is usually sufficient. With these tips in mind, you should have no problem finding the perfect spot for your Dendrobium Orchid!
Is Dendrobium Hard to Grow?
No, Dendrobium is not hard to grow. In fact, it is one of the easiest orchids to cultivate. It can be grown in a pot or mounted on a slab or tree trunk.

Dendrobiums prefer bright, filtered light and well-drained soil mix. They like to be kept moist but not wet and should be fertilized weekly during the growing season.
How Long Does a Dendrobium Orchid Last?
Assuming you are talking about the lifespan of a Dendrobium orchid plant, they can live for many years with proper care. These plants are epiphytes, which means they grow on other objects like trees in the wild. In captivity, they are often grown in potting mixes that provide good drainage since too much moisture can lead to rot.

They typically bloom once a year, but with the right conditions (plenty of light and water), some varieties can bloom multiple times throughout the year. To keep your Dendrobium orchid healthy and blooming regularly, give it bright indirect sunlight and water when the potting mix is dry to the touch. Allow the plant to rest between bloom cycles by withholding water and fertilizer for a few weeks.

With proper care, your Dendrobium orchid can thrive for many years.
Are Dendrobium Orchids Considered Easy to Maintain like other Orchids?
Dendrobium orchids have gained popularity for being relatively easy to maintain compared to other orchid varieties. These beautiful flowers require proper care, including regular watering, adequate sunlight, and a well-draining potting mix. However, their resilience and adaptability make maintaining orchids like Dendrobiums achievable for both beginner and experienced gardeners alike.
What is the Easiest Orchid to Grow?
If you're looking for an easy-to-grow orchid, the phalaenopsis orchid (Phalaenopsis spp.) is a good choice. Also known as moth orchids, these plants are widely available and relatively inexpensive. Phalaenopsis orchids are native to tropical Asia and grow in habitats with filtered sunlight and high humidity.

These orchids are epiphytes, which means they grow on other plants or objects rather than in the ground. In their natural habitat, they often grow on tree branches where they receive dappled sunlight. Phalaenopsis orchids can be grown in pots filled with a variety of potting materials, including bark chips, sphagnum moss, and perlite.

When growing phalaenopsis orchids, it's important to keep the roots moist but not wet. Water the plant when the potting material begins to dry out. Allow excess water to drain away so that the roots do not sit in water.

These plants like humid conditions, so misting them regularly will help to keep them healthy. Phalaenopsis orchids bloom best when they are slightly pot-bound, so don't be tempted to repot them too often. Once every two years should be sufficient.

When repotting, use a sterile potting mix and gently loosen the roots before placing the plant in its new pot. With proper care, phalaenopsis orchids can bloom multiple times a year. The flowers last for several weeks and come in a variety of colors including white, pink, purple, and red.
Conclusion
Dendrobium orchids are not difficult to grow, but they do require some care. They need to be kept in a humid environment and should be fertilized regularly. They also need to be watered carefully, as too much water can damage their roots.
Resources: