Can You Plant Tulips in Raised Beds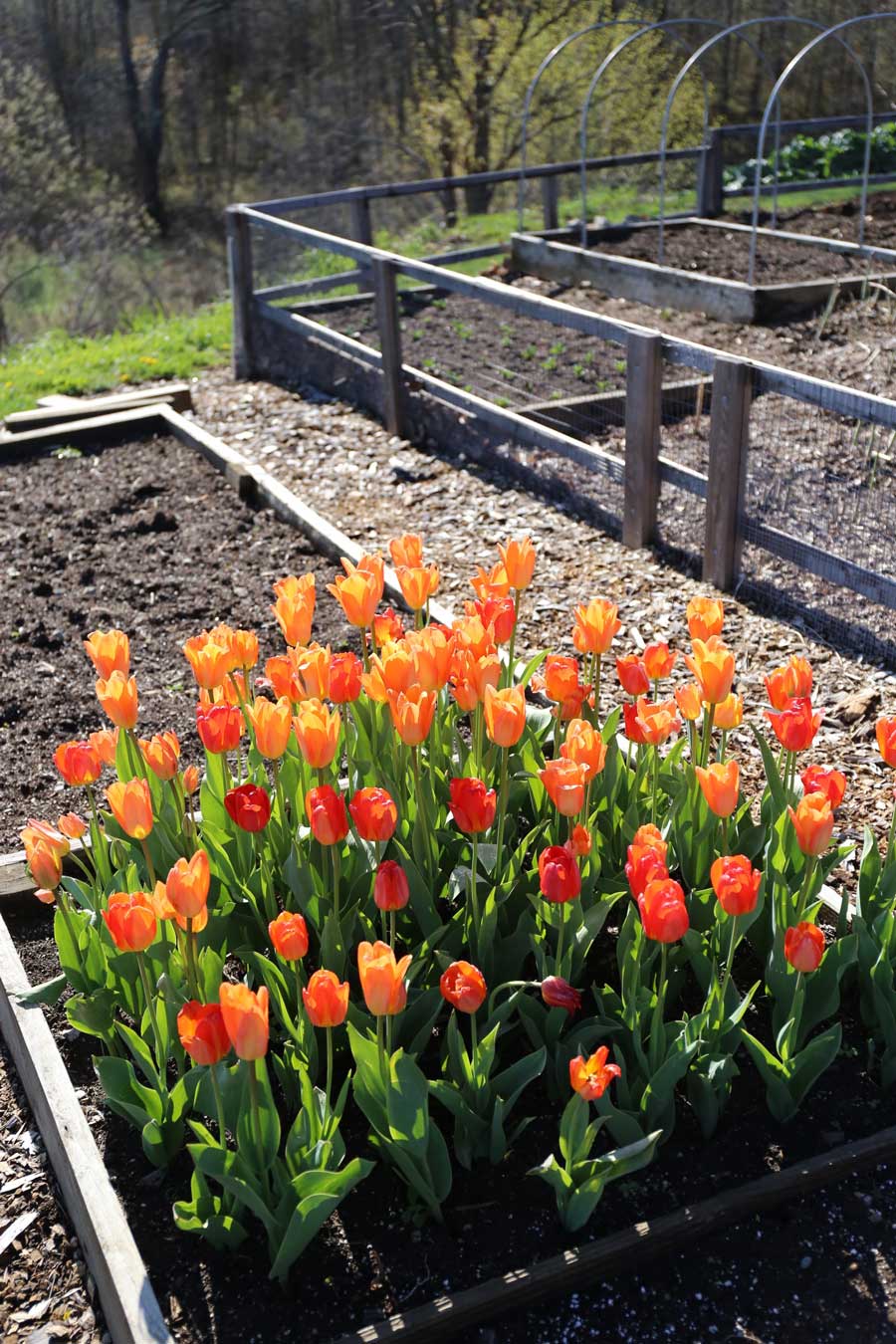 Last Updated on July 8, 2023
If you have ever wanted to plant tulips in your yard but don't have the space, raised beds are a great solution. Raised beds can be any size and shape, so you can easily find one that will fit in your yard. They are also a great way to add color and interest to your landscape.
Tips for Planting Tulip Bulbs in Gardens, Raised Beds, Cutting Gardens, and Containers // Northlawn
Choose a sunny spot in your garden for the raised bed, and mark out the area with string or stakes
Use a shovel or spade to dig up the soil to a depth of about 12 inches (30 cm)
Add some organic matter to the soil, such as compost, manure, or peat moss
Mix it in well with a rake, and then level off the bed with the rake
To plant the tulips, dig a hole that is twice as deep as the bulb itself
Place the bulb in the hole pointy side up, and cover it with soil
How to Plant Bulbs in Raised Beds
Fall is the ideal time to plant spring-flowering bulbs in raised beds. By getting them in the ground now, you'll ensure a colorful display come spring. Follow these simple tips and your raised bed will be abloom in no time!

When choosing bulbs, look for those that are plump and have firm papery skin. Avoid any that are mushy or have holes, which could indicate decay. Once you've selected your bulbs, it's time to get planting!

To start, loosen the soil in your raised bed to a depth of about 8 inches. Next, add a layer of compost or well-rotted manure. This will help improve drainage and provide vital nutrients for your bulbs.

Now it's time to plant! For smaller bulbs like crocuses and snowdrops, plant them about 2-3 inches deep and 4-6 inches apart. Larger bulbs like daffodils and tulips should be planted about 6-8 inches deep with 8-10 inches between each bulb.

Once you've placed all your bulbs in the ground, gently backfill with soil until they are completely covered. Water well and mulch lightly with straw or pine needles to protect from frost damage over winter. And that's it—come springtime you'll have a beautiful display of blooms in your raised bed!
Will Bulbs Survive Winter in Raised Beds
Will Bulbs Survive Winter in Raised Beds? The short answer is: yes, bulbs will survive winter in raised beds. But there are a few things to keep in mind to make sure your bulbs come out of winter healthy and happy.

First, raised beds offer great drainage, which is important for bulb health. However, this also means that the soil in raised beds can dry out more quickly than in other garden areas. Be sure to water your bulbs regularly during the fall so they have time to store up moisture for winter.

Second, because raised beds are often warmer than the surrounding ground (due to better sun exposure and improved drainage), you may need to take steps to protect your bulbs from freezing if you live in an area with very cold winters. One option is to cover the bed with a thick layer of mulch or straw after the ground has frozen solid. This will help insulate the soil and prevent it from heaving when the ground freezes and thaws throughout winter.

Assuming you take these precautions, your bulbs should come through winter just fine!
Can You Plant Daffodils With Vegetables
You can absolutely plant daffodils with vegetables! In fact, they make great companions. Daffodils are known to be good for repelling predators and pests, so planting them next to your veggies can help keep them safe.

They also don't require a lot of care or attention, so you won't have to worry about them too much.
Where to Plant Bulbs in Flower Bed
When planning your flower bed, consider where you want your bulbs to bloom. Most bulbs need full sun to partial shade, so take note of the sunniest areas in your yard. Once you've decided where to plant, prepare the soil by loosening it with a shovel and mixing in some organic matter.

To plant your bulbs, dig a hole that's twice as deep as the bulb itself. Place the bulb in the hole with the pointy end facing up, and then fill in the hole with soil. Water well after planting.

Now all you have to do is sit back and wait for spring!
How to Plant Tulip Bulbs
When the weather begins to cool in the fall, it's time to start thinking about planting tulip bulbs. This beautiful flower is a springtime staple, and with a little bit of planning, you can have a gorgeous display in your own yard. Here's what you need to know about planting tulip bulbs:

The best time to plant tulip bulbs is in October, after the soil has had a chance to cool down from the summer heat. Choose a spot in your yard that gets full sun and has well-drained soil. Dig a hole that is twice as deep as the bulb itself, then place the bulb in the hole with the pointed end up.

Cover with soil and water well. Tulips require very little maintenance once they are planted. Just make sure to keep an eye on the soil moisture levels and water when necessary.

When the flowers begin to bloom in early spring, enjoy their beauty!
Credit: lovenfreshflowers.com
Can You Plant Tulips in a Garden Bed?
Sure! Planting tulips in a garden bed is a great way to add color and variety to your landscape. Here are a few tips to get you started:

-Choose a sunny spot in your garden bed for planting. Tulips need at least six hours of sunlight each day to produce vibrant blooms. -Prepare the soil in your chosen spot by loosening it with a shovel or tiller.

This will help the tulip bulbs root more easily. -Plant the bulbs about four inches deep and eight inches apart. If you're unsure how many bulbs to plant, a good rule of thumb is 10 per square foot.

-Water the area well after planting, then mulch over the top of the bulbs with straw or bark chips. This will help protect them from frost heave (which can happen when the ground freezes and thaws repeatedly). Tulips are generally low-maintenance plants, so once they're in the ground, all you need to do is water them regularly and wait for spring!
How Deep Should a Planter Be for Tulips?
When planting tulips, the general rule of thumb is to plant them about twice as deep as the bulb is tall. So, if you have a bulb that's 2 inches tall, you'll want to dig a hole that's 4 inches deep. This will help ensure that your tulip has enough room to grow and won't be overcrowded.
Can Tulips Be Planted in a Planter Box?
Yes, tulips can be planted in a planter box. A planter box is a great way to add color and life to your home or garden. When choosing a planter box for your tulips, make sure it is at least 12 inches deep and has drainage holes in the bottom.

Fill the planter box with a good quality potting mix and plant the tulips bulbs 6-8 inches apart. Water the bulbs well after planting and keep the soil moist throughout the growing season.
Can I Plant Hydroponic Tulips in Raised Beds?
Planting hydroponic tulips in soil is not recommended. Hydroponic tulips are grown without soil, utilizing a nutrient-rich water solution. Raised beds are typically filled with soil, which may impede the efficient growth of hydroponic plants. To enjoy the benefits of hydroponics, it's best to stick to their original method of cultivation.
Where is the Best Place to Plant Tulips?
There is no definitive answer to this question as there are a number of factors to consider, including the climate, soil type, and amount of sunlight the tulips will receive. However, some general tips on where to plant tulips include: – Choose a location that gets at least six hours of sunlight per day.

– Avoid planting in areas that are prone to flooding or excessive moisture. – Tulips prefer well-drained soil with a neutral pH level. If your soil is heavy or clay-like, you may need to amend it with sand or organic matter before planting.

– Plant bulbs in the fall, about 6 weeks before the first frost date in your area. This gives them time to develop roots before winter sets in. Following these tips should help you choose an ideal spot for your tulips!
Conclusion
It's possible to plant tulips in raised beds, but there are a few things to keep in mind. The soil in raised beds tends to be drier than in the ground, so you'll need to water your tulips more often. You'll also want to make sure the bed is deep enough – at least 8 inches – so that the bulbs can get the nutrients they need.
Resources: