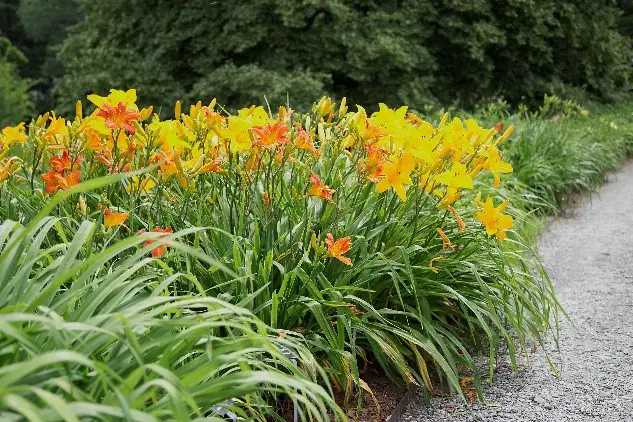 Last Updated on July 8, 2023
Yes, daylilies spread. In fact, they are quite aggressive and can quickly take over a garden if left unchecked. They are easily propagated by dividing the clumps every few years to keep them in check.

Daylilies are also tolerant of a wide range of soils and conditions, so they are relatively easy to grow.
If you're looking for a plant that will spread and fill in a garden bed quickly, daylilies are a great option. These hardy perennials can spread rapidly, often increasing in size by as much as 30% each year. While they're easy to control when grown in beds or borders, daylilies can become invasive if left unchecked.

If you want to enjoy these cheerful flowers without worrying about them taking over your yard, here are a few tips on how to keep them under control. When planting daylilies, choose an area that has well-drained soil and full sun. If possible, try to avoid areas that are prone to flooding or waterlogging, as this can cause the plants to rot.

Daylilies also prefer loamy soil that's high in organic matter, so adding some compost to the planting hole is always a good idea. Once they're established, daylilies are tough plants that don't require much care. However, they will benefit from being divided every three to four years to prevent them from becoming overcrowded.

This is best done in early spring before the plants start actively growing again. To divide daylilies, simply dig up the entire clump and replant it in smaller sections elsewhere in the garden bed.
Incredible secrets of the daylily!
How Quickly Will Daylilies Spread?
If you're looking for a plant that will quickly spread and fill in an empty garden bed, look no further than the daylily. This hardy perennial can multiply rapidly, often doubling in size each year. Depending on the variety, daylilies can bloom from early summer to late fall.

And they're not just pretty to look at—daylilies are also deer resistant and drought tolerant. So how fast do daylilies spread? It depends on the conditions they're growing in and the type of daylily.

In general, however, you can expect them to spread about 6-12 inches each year. If you want them to fill in a space more quickly, you can divide the plants every few years to encourage more growth. Whether you're a seasoned gardener or just getting started, daylilies are a great option for adding color and life to your yard—just be prepared for them to take over if you're not careful!
How Do You Get Daylilies to Multiply?
If you want your daylilies to multiply, there are a few things you can do. One is to divide the clumps every three to four years. This will help increase the number of plants and also keep the size manageable.

Another way to encourage multiplication is to deadhead the flowers regularly. This will promote new growth and more blooms. Finally, make sure you are providing adequate moisture and nutrients to the plants.

A healthy plant is more likely to produce offsets (new plants) than one that is stressed.
Where is the Best Place to Plant a Daylily?
This is a difficult question to answer as it depends on a number of factors including climate, soil type, and available sunlight. In general, daylilies do best in full sun but can also tolerate partial shade. They prefer well-drained soil that is high in organic matter.

When deciding where to plant your daylily, consider the amount of sun and shade the area receives throughout the day. Daylilies need at least 6 hours of direct sunlight each day to bloom well. However, they will still bloom in areas that receive less sun, but the blooms may be smaller and fewer in number.

Soil type is also important for daylilies. They prefer loose, sandy soils that are high in organic matter and drain well. If your soil is heavy or clay-based, you can improve drainage by adding sand or organic matter such as compost before planting.
How Invasive are Daylilies?
Daylilies (Hemerocallis spp.) are a type of flowering plant that is native to Asia. They have been introduced to other parts of the world, including North America, where they have become naturalized. Daylilies are considered to be invasive in some areas because they can spread rapidly and outcompete native plants.

The daylily is a member of the liliaceae family which includes over 10 000 species of flowering plants. The majority of these species are found in temperate regions with a smaller number found in the tropics. The genus hemerocallis contains about 70-80 species with the majority being native to China.

Daylilies are herbaceous perennial plants that typically grow from 30-90 cm tall. The leaves are strap-like and arranged in a basal rosette. The flowers are borne on stems (scapes) that arise from the center of the rosette and each flower lasts for only one day.

However, each plant produces many flowers over an extended period of time so that there is always at least some bloom period throughout the growing season. The flower petals are usually brightly colored and often fragrant. After pollination, the flowers develop into seed pods containing numerous small black seeds.

Eachseed pod can contain up to 2000 seeds! Once mature, the seeds can remain viable in soil for many years before germinating. This means that daylilies can easily become established in new areas where they did not previously exist.

While most gardeners consider daylilies to be attractive and easy-to-care-for plants, their ability to spread quickly has made them problematic in some natural areas. When introduction into new habitats, daylilies can quickly outcompete native vegetation leading to reductions in biodiversity . Additionally, because they produce so many seeds, it is difficult to control their spread once they become established in an area.

. As such,dayliles should be planted with caution – especially near natural areas where their uncontrolled growth could cause problems..
Credit: gardenerspath.com
How Quickly Do Daylilies Spread
If you're looking for a fast-spreading plant, daylilies are a great option. These perennials can spread up to 2 feet per year, making them ideal for covering large areas of ground quickly. They're also relatively easy to care for, requiring only occasional watering and fertilization.
Do Daylilies Come Back Every Year
Do Daylilies Come Back Every Year? Yes, daylilies come back every year. They are a hardy plant that can withstand cold temperatures.

However, they may not bloom as early in the season if the winter was particularly harsh. Daylilies are a popular choice for gardens because they are low maintenance and require little care. They will grow in most soil types and prefer full sun to partial shade.

Once they are established, they are drought tolerant. When planting, be sure to space them about 18 inches apart so they have room to spread out. To encourage blooming, deadhead spent flowers regularly throughout the season.

This simply means removing the flower heads from the stems. Daylilies will continue to bloom all summer long if you keep up with this task. If you live in an area where winters are harsh, you may want to consider covering your daylilies with mulch before the first frost hits.

This will help insulate the roots and protect them from freezing temperatures.
Do Daylilies Need Full Sun
One of the most common questions we get here at the nursery is "How much sun do daylilies need?" The short answer is that they need at least six hours of direct sunlight per day, but more is always better. In fact, if you can provide eight to ten hours of sunlight, your plants will be happier and will produce more flowers.

That being said, there are some varieties of daylily that can tolerate partial shade. If you live in an area with hot summers and intense sun, or if you have a spot in your garden that gets afternoon shade, these varieties might be a good option for you. Just keep in mind that they will likely produce fewer flowers than their full-sun counterparts.

When it comes to watering, daylilies are pretty drought-tolerant once they're established. They don't like to sit in wet soil, so make sure your planting site has good drainage. During prolonged periods of dry weather, you may need to give them a deep drink about once a week.

Mulching with organic material (such as shredded leaves or bark) will help keep the roots cool and moist.
Conclusion
Did you know that daylilies are one of the easiest perennials to grow? Not only are they virtually carefree, but they also multiply rapidly. Daylilies spread by sending out above-ground runners (called stolons) that quickly produce new plants.

The flowers bloom for only a day, but each plant produces numerous buds, so you'll always have plenty of blossoms.
Resources: