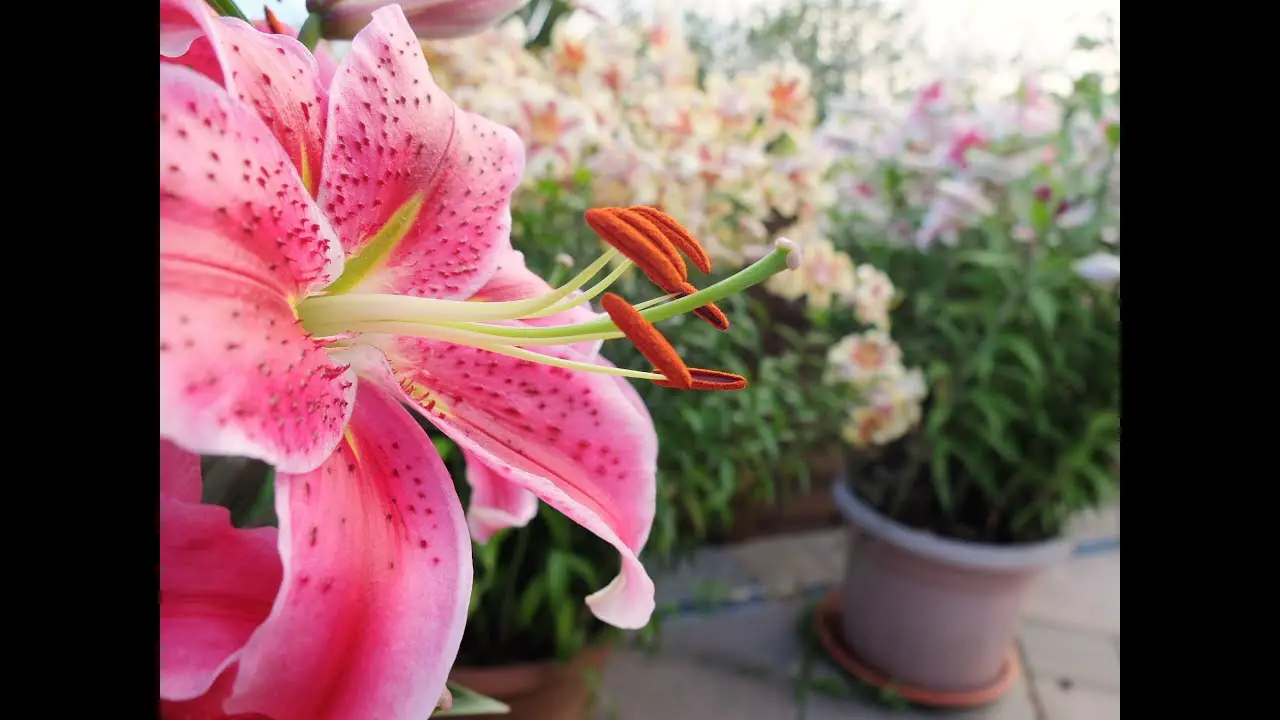 Last Updated on July 9, 2023
If you love lilies, you may be wondering if they regrow. The answer is yes! With a little bit of care, you can enjoy these beautiful flowers for years to come.
Lilies are a beautiful flower that can brighten up any room or garden. But what happens when they start to wilt and die? Can you regrow lilies?

The answer is yes! With a little care and attention, you can replant your lily bulbs and have them blooming again in no time. Here are a few tips on how to do it:

1. Start with healthy bulbs. If your lily bulbs are already starting to rot or show signs of disease, then they won't regrow. So, make sure to choose healthy bulbs from the start.

2. Plant the bulbs in well-draining soil. Lilies need soil that drains well so that their roots don't rot. If you live in an area with clay soil, consider adding some sand to improve drainage.

3. Water regularly (but not too much). Lily bulbs need to be kept moist but not soggy. Water them once a week or so, depending on the weather conditions in your area.

During hot summer months, you may need to water more often. 4 . Place the bulb pointed side up .

When you plant your lily bulb, make sure the pointy end is pointing up towards the sky . This allows the shoot to grow upwards and produce a beautiful flower . 5 Fertilize monthly . Lilies benefit from regular fertilization . Use a balanced fertilizer and apply it once a month during the growing season .
Lily Propagation: How to Scale Lily Bulbs – Multiplying Lily Bulbs in the Cut Flower Garden
What to Do When Lilies Have Finished Flowering
When lilies have finished flowering, it's time to deadhead the plants. Deadheading is the process of removing spent flowers and seed pods from the plant. This helps the plant to focus its energy on producing new growth and flowers, rather than on producing seeds.

To deadhead lilies, cut off the flower stalk at the base of the plant, just above where new leaves are emerging. Be sure to make your cuts clean and sharp so that you don't damage the plant. After deadheading, it's a good idea to fertilize your lilies.

Use a balanced fertilizer that is high in phosphorus; this will encourage strong root growth and plenty of blooms next season. Apply the fertilizer according to package directions, and water thoroughly after applying.
What to Do With Lilies in Pots After Flowering
Lilies are a beautiful and popular flower, but what do you do with them after they've flowered? Here are some ideas for what to do with your lilies in pots after flowering: -Cut the stems back to about 6 inches and repot the lily bulbs.

This will help them to rebloom next season. -Leave the stems intact and allow the plant to die back naturally. This will provide nutrients for the bulb which will help it to bloom again next year.

-Dig up the entire plant, including the bulb, and replant it in a new location. Whichever option you choose, be sure to give your lilies plenty of sunlight and water throughout the growing season so that they can continue to thrive.
Do Lilies Multiply
Lilies are a beautiful and popular flower, but many people don't know that they can actually multiply! Here's how it works: first, you'll need to find a lily that has started to produce offsets, or "baby" lilies. These offsets can be carefully removed from the parent plant and replanted.

With proper care, these offsets will soon produce their own offsets, and before long you'll have a whole patch of gorgeous lilies!
How Long Do Lilies Bloom
Lilies are a beautiful flower that can brighten up any room or garden. But how long do they bloom for? The answer to this question depends on the type of lily.

For example, Asiatic lilies typically bloom for about 2 weeks, while Oriental lilies can last for up to 6 weeks. However, in general, most lilies will bloom for around 3-4 weeks. Once a lily has flowered, it is important to deadhead the spent blooms.

This will encourage the plant to produce more flowers. With proper care, your lilies should continue blooming throughout the summer months!
Credit: www.gardeningknowhow.com
Do Lilies Regrow After Cutting?
Lilies are a beautiful and popular flower that is often used in bouquets and floral arrangements. After cutting lilies, you may be wondering if they will regrow. The answer is yes, lilies can regrow after being cut, but there are a few things you need to do in order to ensure success.

First, it is important to use a sharp knife or shears when cutting the lily stem. This will help prevent damage to the stem which could make it difficult for the plant to regrow. Cut the stem at an angle so that more surface area is exposed.

This will also help with water absorption. Next, place the cut lily stem in a vase or container filled with fresh water and add a small amount of plant food or fertilizer. Lilies prefer cool temperatures, so keep them out of direct sunlight if possible.

Change the water every few days to keep it fresh. Within a week or two, you should see new growth beginning on the lily plant. Once the plant has re-established itself, you can transplant it into soil if desired.

With proper care, your lily will continue to thrive and provide you with gorgeous blooms for many years to come!
What Do You Do With Lilies After Flowering?
When lilies are done flowering, you have a few options for what to do with them. You can cut the stems down to about 6 inches and put them in a vase with fresh water. Change the water every few days and they should last for another week or two.

You can also dry the lily flowers by hanging them upside down in a dark, cool place. Once they're dried, you can press them in a plantpress or use them in crafts. Finally, you can dig up the entire plant and store it indoors over winter.

Bring it back outside once all danger of frost has passed and replant it in your garden.
How Do I Make My Lilies Grow Back?
Lilies are a popular choice for gardens and flower arrangements, but did you know that they are also one of the easiest flowers to grow? With just a little bit of care, you can have lilies blooming in your garden for years to come. Here's what you need to do to make your lilies grow back:

1. Plant your lilies in well-drained soil in a sunny spot. Lilies prefer soil that is on the acidic side, so if your soil is alkaline, you may need to add some sulfur to it. 2. When planting, set the bulbs about 8 inches deep and 12 inches apart.

Water them well after planting. 3. Fertilize your lilies once a month during the growing season with a balanced fertilizer such as 10-10-10. Be sure not to over fertilize, as this can cause the bulbs to rot.

4. Once the blooms start to fade, cut off the stems about 6 inches above ground level. This will encourage new growth for next year's bloom cycle. 5 .

Leave the foliage in place until it dies back naturally or is killed by frost in fall . The leaves are necessary for photosynthesis , which helps nourish the bulb for next year's growth . 6 .

In late fall , dig up the bulbs and store them indoors over winter . Place them in a cool , dry location such as an unheated garage or basement . Check on them periodically throughout winter , and if any show signs of rotting , discard them .

7 . Come springtime , replant your bulbs outdoors and enjoy another season of beautiful blooms !
Will Lillies Regrow If They Have Been Sprayed?
Lily spraying methods can affect the regrowth of lilies. If they have been sprayed with certain chemicals, the damage may hinder regrowth. It is important to carefully select appropriate lily spraying methods and avoid using harmful substances that could harm the plant's regenerative abilities.
Does Lilly Come Back Every Year?
Lilly Pulitzer is a fashion brand that was founded in 1959 by Lilly Pulitzer Rousseau. The brand is known for its brightly colored dresses and prints. Every year, Lilly Pulitzer releases a new collection of clothing and accessories.

Some of the pieces are available all year round, while others are only available for a limited time. Lilly Pulitzer fans wait eagerly for the release of each new collection.
Can Lilies Regrow and Bloom again?
Lilies blooming again is a common question among garden enthusiasts. The good news is that with proper care, lilies can regrow and bloom again. After the flowers fade, it's essential to deadhead them, ensuring the energy goes back into the bulb. A good fertilizer, adequate sunlight, and well-draining soil further support lilies to bloom anew, delighting you with their vibrant colors season after season.
Conclusion
Lillies are a beautiful flowering plant that many people enjoy having in their gardens. While they don't last forever, they can be replanted and will regrow. With proper care, your lilies can thrive for years to come.
Resources: