Do You Dead Head Cana Lillies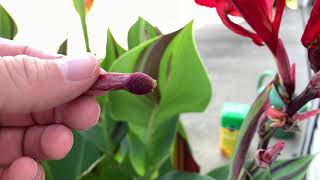 Last Updated on July 9, 2023
Cana lilies are a beautiful, tropical plant that add a touch of the tropics to any garden. They are easy to care for and require very little maintenance. Cana lilies will bloom all summer long with very little care from you.

One important thing you can do to keep your cana lily blooming is to deadhead it.
If you have cana lilies in your garden, it's important to dead head them regularly. Dead heading is the process of removing spent flowers from the plant. This helps the plant to focus its energy on producing new growth and flowers, and keeps the plant looking tidy.

To dead head cana lilies, simply cut off the flower stem at the base of the plant. You can do this with pruning shears or a sharp knife. Be sure to make a clean cut so that the plant can heal quickly.

After dead heading, your cana lilies should continue to bloom throughout the summer months!
How to Deadhead Cannas
Are You Supposed to Deadhead Cannas?
Yes, you are supposed to deadhead canna lilies. By doing so, you encourage the plant to produce more flowers and also prevent it from going to seed.
How Do You Keep Cannas Blooming?
Cannas are a tropical plant that can add a touch of the exotic to any garden. They are easy to grow and care for, and will bloom continuously throughout the summer with proper care. Here are some tips on how to keep your cannas blooming:

1. Plant in full sun. Cannas need at least 6 hours of direct sunlight each day in order to bloom well. If you live in an area with hot summers, choose a spot that gets morning sun and afternoon shade.

2. Provide rich, well-drained soil. Cannas like soil that is high in organic matter and drains well. Amend your planting bed with compost or other organic matter before planting cannas.

3. Water regularly during the growing season. Keep the soil moist but not soggy – water about once per week, or more often if needed during periods of extended heat or drought. Once cannas start blooming, cut back on watering slightly to prevent buds from dropping off prematurely.

4 . Fertilize monthly during the growing season . Use a balanced fertilizer such as 10-10-10 or 20-20-20 , applied at half the recommended rate on the package .

More is not better – too much fertilizer can actually damage cannas and cause them to produce fewer flowers . Stop fertilizing once flowering begins , as excessive fertilizer can cause bud drop . However , you can give plants an extra boost by applying a high – phosphorus fertilizer ( such as 0 – 20 – 20 ) once every 4 weeks during flowering .

This will help prolong bloom time . 5 5 Cut back after frost . In most areas , cannas must be dug up and brought indoors for winter since they cannot tolerate freezing temperatures .
How Do You Prune Canna Lilies After They Bloom?
Pruning canna lilies after they bloom is a simple process that will ensure your plants remain healthy and continue to produce blooms. The first step is to remove any dead or dying leaves, stems, and flowers. This can be done by cutting them back to the ground with a sharp knife or pruning shears.

Next, cut away any damaged or diseased foliage. If there are any seed pods present, remove these as well. Finally, trim back any remaining leaves and stems by about one-third their length.

This will encourage new growth and help keep your canna lilies looking their best.
Should I Cut Seed Pods off Cannas?
It's a common question asked by gardeners – should I cut seed pods off my cannas? The answer is both yes and no. Let me explain…

If you want your cannas to produce flowers year after year, then it's best to remove the seed pods. This will prevent the plant from putting all its energy into producing seeds, and instead allow it to focus on creating beautiful blooms. However, if you're growing cannas for their seeds (which can be used to grow new plants), then of course you'll want to leave the seed pods on.

Once they've ripened and turned brown, simply cut them open and collect the seeds inside. So there you have it – whether or not to remove seed pods from your cannas is entirely up to you and what you hope to achieve with your plants.
Credit: www.cannas.net
Should I Remove Seed Pods from Canna Lily
If you're growing canna lilies (Canna x generalis) for their colorful flowers, you may be wondering if you should remove the seed pods. After all, they're not very attractive and can detract from the plant's overall appearance. Here's what you need to know about canna lily seed pods.

Canna lilies produce both seeds and flowers. The flowers are borne on spikes that emerge from the top of the plant. Each flower is followed by a seed pod, which contains numerous small seeds.

The seed pods are edible and actually quite nutritious, containing protein, fat, carbohydrates, vitamins A and C, calcium, phosphorus, and iron. So if you don't mind their slightly bitter taste, feel free to add them to your salads or other dishes. Left to their own devices, canna lilies will self-seed readily.

If you don't want them spreading all over your garden beds, it's best to remove the seed pods before they mature and release their seeds. Simply cut off the stalk with a sharp knife or pruning shears when the pod is green and immature (before it turns brown).
How to Cut Back Cannas for Winter
When the weather starts to cool down in the fall, it's time to start thinking about getting your cannas ready for winter. Here are a few tips on how to cut back cannas for winter: 1. Cut off all of the foliage about 6 inches from the ground.

2. Dig up the roots and shake off any excess dirt. 3. Store the roots in a cool, dry place until spring. 4. In the spring, replant your cannas in a sunny spot and water them regularly.
How to Keep Cannas Blooming
The canna is a tropical plant that is often used as an ornamental in gardens. It is native to South and Central America, but has been introduced to many other parts of the world. Cannas are typically grown for their showy flowers, which bloom in a variety of colors including yellow, orange, pink, red, and purple.

The plants can reach heights of 6-10 feet tall and have large leaves that are often variegated. While cannas are generally easy to care for, they can be susceptible to pests and diseases. With proper care, however, your cannas should thrive and provide you with beautiful blooms all season long!

Here are some tips on how to keep your cannas blooming: – water regularly and deeply; wilting leaves are a sign that the plant needs more water – fertilize monthly with a balanced fertilizer; too much nitrogen will cause excessive leaf growth at the expense of flowering

– provide plenty of sunlight; at least 6 hours per day is ideal – deadhead spent flowers to encourage new blooms; simply cut off the stem below the flower head
Should I Cut off Dead Blooms from Cana Lilies?
When to trim dying orchid blooms? When it comes to cana lilies, the answer is yes. Cutting off dead blooms from cana lilies not only enhances their appearance but also promotes healthier growth. Removing the withered flowers redirects the plant's energy towards producing new blooms, ensuring a continuous display of vibrant and colorful flowers. Regular deadheading can prolong the flowering season of your cana lilies.
Is the Process of Dead Heading Day Lilies the Same as Dead Heading Cana Lilies?
The process of deadheading day lilies is similar to deadheading cana lilies in terms of removing spent blooms. However, there are differences in the timing and technique. Deadheading day lilies involves cutting the entire flower stalk while deadheading cana lilies requires removing individual faded flowers. Both methods aim to encourage new growth and prolong flowering.
Conclusion
If you want your canna lilies to look their best, you need to deadhead them. Deadheading is the process of removing spent flowers from the plant. This not only makes the plant look nicer, but it also helps it to produce more flowers.

To deadhead a canna lily, simply cut off the flower stalk at the base of the plant. You can use pruning shears or a sharp knife for this. Be sure to make your cut just above where a new flower bud is forming.
Resources: