Does Canna Lillies Do Well in South Florida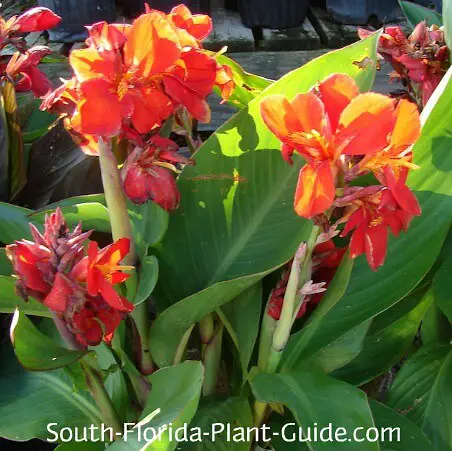 Last Updated on July 9, 2023
The canna lily is a beautiful flower that does well in many different climates, including South Florida. They are relatively easy to care for and make a great addition to any garden. Canna lilies come in many different colors, so you can find one to match any color scheme.
Canna lilies – everything you need to know about how to choose and grow cannas
Looking for something different to add to your South Florida landscape? Canna lilies (Canna indica) may be just what you need! These tropical beauties are not only easy to grow, but they're also tolerant of a wide range of conditions.

Canna lilies prefer full sun and well-drained soil, but they'll also do well in partial shade and even in wetter areas. They're not particular about soil type, either – sand, loam, or clay will all work fine. Just make sure the soil is amended with organic matter before planting.

Once established, cannas are quite drought tolerant. However, they'll perform best if you give them regular waterings during prolonged dry periods. Fertilize monthly with a balanced fertilizer during the growing season (spring through fall).

One of the best things about cannas is that they're virtually maintenance-free. No deadheading or staking is necessary – just sit back and enjoy their colorful blooms!
Can You Grow Canna Lilies in Florida
If you're looking to add a splash of tropical color to your garden, you may be wondering if you can grow canna lilies in Florida. The good news is that these striking plants are well-suited to the warm climate and rich soils of the Sunshine State. Here's what you need to know about growing canna lilies in Florida.

Canna lilies (Canna x generalis) are native to South and Central America, but they have been widely cultivated around the world for their beautiful flowers. In Florida, they can be found growing in both wild and cultivated settings. These herbaceous perennials typically reach heights of 3-6 feet, with leaves that are large and green.

The flowers are usually yellow, orange, or red, and they bloom from late spring through fall. Canna lilies prefer full sun and moist soils. They are tolerant of most soil types as long as it is well-drained.

If you live in an area with heavy clay soils, you may want to consider planting your cannas in raised beds or on mounds to ensure good drainage. While cannas are generally quite hardy, they can be susceptible to fungal diseases in humid climates like Florida. Be sure to water them at the base rather than overhead to avoid wetting the foliage (which can promote disease).

And don't forget to clean up any fallen leaves, as they can also harbor diseases that could affect your plants. With a little care, cannas will thrive in Florida gardens – adding vibrant color and a touch of the tropics all season long!
How to Deadhead Cannas
If your canna lilies are looking a little bit worse for the wear, don't despair! With a little deadheading, you can revive them and have them looking fabulous in no time. Here's how to do it:

First, cut off any brown or yellow leaves that are starting to die back. You can cut these all the way back to the ground if you like. Next, take a look at the flowers.

If any of them are wilted or beginning to fade, snip those off as well. Once again, you can cut these all the way back to the ground if you like. Finally, give your plants a good watering.

This will help them recover from all the deadheading and rejuvenate their growth. After following these steps, your cannas should start looking better within a few days. Deadheading is an important part of plant care that often gets overlooked, but it can make a big difference in the health and appearance of your plants!
Canna Lily Florida Native
Canna Lily Florida Native – The canna lily is a beautiful, tropical plant that is native to Florida. It has large, green leaves and flowers that range in color from white to pink to red. The canna lily is a popular landscaping plant and can be found in many public and private gardens.
Canna Lily Drought Tolerant
Canna lilies are one of the most drought tolerant perennials you can grow. They're native to tropical and subtropical regions, so they're used to hot, dry conditions. When grown in other climates, they may need a little extra water during periods of drought.

But once they're established, they're quite drought tolerant. Canna lilies have large, thick leaves that help them store water. They also have deep roots that reach down into the soil for moisture.

If you live in an area with regular droughts, planting cannas is a great way to add color to your garden without having to worry about watering them all the time. If you do need to water your cannas during a drought, make sure you give them a deep soaking so their roots can get a good drink of water. Then let the soil dry out completely before watering again.
Native Florida Lilies
There are over 50 species of lilies that are native to Florida. The most common and well-known lily is the white water lily (Nymphaea odorata). Other popular native lilies include the yellow pond lily (Nuphar lutea), the fragrant water lily (Nymphaea tuberosa), and the spider lily (Crinum americanum).

Lilies are a favorite of gardeners and landscapers because they are easy to grow and maintain. They can be grown in a variety of soil types and prefer full sun to partial shade. Most native Florida lilies bloom from spring through summer, with some varieties blooming into fall.

If you're looking to add some beautifulnative Florida lilies to your garden or landscape, here are a few tips: 1. Choose the right location. Lilies need plenty of sunlight, so make sure to choose a spot in your yard that gets at least 6 hours of direct sunlight each day.

They also need room to spread out, so give them plenty of space when planting. 2. Prepare the soil properly. Lilies do best in well-drained, sandy soils.

If your soil is heavy or clay-based, mix in some organic matter such as compost or peat moss to help improve drainage. amendment before planting will also help prevent problems with root rot down the road. 3 .

Plant at the right time . In general, it's best to plantliles in early spring or fall . This gives them time to establish themselves before hot summer weather sets in .

However , if you live in an area with mild winters , you can plant them almost anytime except during very cold snaps . 4 Don't forget about watering ! Liles need consistent moisture , especially when they 're actively growing and flowering . Water deeply once or twice per week , depending on rainfall amounts .
Credit: www.tropicaldesigns.com
Do Cannas Grow Well in Florida?
Cannas are a type of tropical plant that can grow well in Florida. They require full sun and moist, well-drained soil. Cannas can be started from rhizomes or bulbs.

When planting cannas, it is important to bury the rhizomes or bulbs so that they are 2-3 inches below the soil surface. Water the plants deeply after planting to help them get established. Once established, cannas will need regular watering during periods of dry weather.

Fertilize cannas monthly with a balanced fertilizer such as 10-10-10.
Are Canna Lilies Perennial in Florida?
Canna lilies (Canna x generalis) are not actually true lilies, but they are perennial plants that are commonly grown in Florida. They have large, showy flowers that come in a variety of colors, including red, orange, yellow, and pink. Canna lilies can reach up to 6 feet tall and have long, broad leaves.

They prefer full sun and well-drained soil. In Florida, cannas are typically planted in the spring and can be enjoyed through the fall.
Do Cannas Go Dormant in Florida?
Cannas are tropical plants that originated in South America. They are not cold hardy and will not survive a frost. In Florida, they can be grown as annuals or perennials depending on the climate zone.

Cannas will go dormant in late fall or early winter when the temperatures start to drop. This is normal for them and they will re-emerge in spring when the weather warms up again.
Can Asiatic Lilies Thrive Indoors Like Canna Lilies Can in South Florida?
Asiatic lilies indoor care tips are essential for attempting to grow them indoors. While canna lilies thrive indoors in South Florida, the same cannot be said for Asiatic lilies. These delicate flowers prefer outdoor conditions, needing adequate sunlight, well-draining soil, and cooler temperatures. Planting them in a suitable outdoor environment is still the recommended course of action.
Do Lilies Grow in South Florida?
Lilies are a beautiful and popular flower, and many people want to grow them in their gardens. South Florida has a warm climate that is perfect for growing lilies. There are many different types of lilies that you can grow in South Florida, including Asiatic lilies, daylilies, and Easter lilies.

Asiatic lilies are the most popular type of Lily grown in South Florida. They have large flowers that come in a variety of colors including white, yellow, pink, and red. Asiatic lilies are easy to grow and do not require much care.

Dayliles are another popular type of Lily grown in South Florida. Dayliles have smaller flowers than Asiatic lilies but they come in a wider range of colors including orange, purple, and black. Dayliles are also easy to grow and do not require much care.

Easter Lilies are the third type of Lily grown in South Florida. Easter Lilies have white flowers with a sweet fragrance. Easter Lillies need more care than Asiatic or dayliles because they like cooler temperatures and need to be protected from the hot sun.

You can find all the supplies you need to grow lilies at your local garden center or nursery.
Can Daylilies and Canna Lilies Thrive in the Same Climate in South Florida?
Daylilies and Canna lilies are both suitable for the climate in South Florida. Their adaptability to the region allows day lilies in south florida to thrive alongside Canna lilies, creating a stunning and diverse floral display. With proper care and maintenance, these two types of lilies can coexist harmoniously, enhancing the beauty of gardens and landscapes in the area.
Conclusion
If you're looking for a plant that will do well in South Florida's hot and humid climate, then you should consider the canna lily. This tropical plant is known for its large, colorful flowers and can grow up to six feet tall. Cannas are relatively easy to care for and make a great addition to any garden.
Resources: