How Does Calla Lillies Grow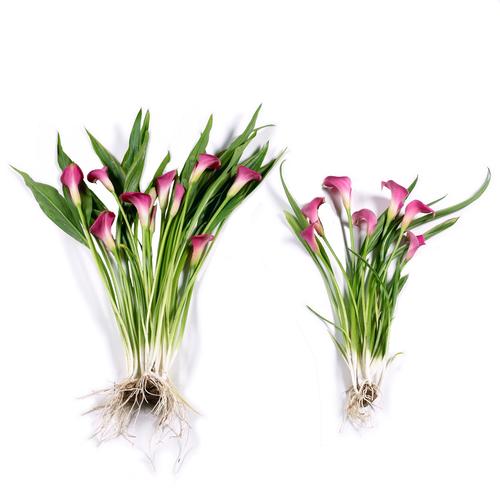 Last Updated on July 8, 2023
There are many flowers that have a special meaning to them and the calla lily is no exception. This flower has been associated with beauty and innocence for centuries. The calla lily is a member of the Araceae family and is native to South Africa.

These flowers grow from rhizomes that are thick and fleshy. Calla lilies can be either white or yellow in color, but the most popular color is white. These flowers bloom in the summertime and their blooming period can last up to six weeks.
If you're looking to add a touch of elegance to your garden, calla lilies are the perfect choice. These beautiful flowers are relatively easy to grow, as long as you provide them with the right conditions. Here's what you need to know about growing calla lilies in your garden.

Calla lilies prefer well-drained soil that is rich in organic matter. They also like full sun or partial shade and moderate watering. If you live in an area with hot summers, it's best to provide some afternoon shade for your plants.

Calla lilies are not frost hardy, so they will need to be protected from cold weather or brought indoors over winter. When planting calla lilies, it's important to set the bulbs (or rhizomes) at the correct depth. They should be buried just deep enough so that the tips are barely covered with soil.

Once planted, water well and keep the soil moist until new growth appears. Calla lilies can be propagated by division in spring or summer. Simply dig up the clumps of bulbs and divide them into smaller sections using a sharp knife or spade.

Replant immediately and water well until established.
How Long Do Potted Calla Lilies Last
If you're lucky enough to have a calla lily in your garden, you may be wondering how long it will last. Most calla lilies will bloom for about four to six weeks. However, if you take good care of your plant, it can last much longer.

Here are some tips on how to prolong the life of your potted calla lily: – water regularly and fertilize monthly – keep the plant in a sunny spot

– deadhead spent blooms – pinch back leggy stems With proper care, your potted calla lily can last for several months.

Enjoy its beautiful blooms while they last!
Can I Plant a Potted Calla Lily Outside
Calla lilies are a beautiful and popular flower, often seen in bouquets and as potted plants. Many people don't know that they can actually be planted outside, and with a little care, will thrive! Here's what you need to know about planting calla lilies outside:

The best time to plant calla lilies is in the spring, after the last frost. You'll want to choose a spot that gets plenty of sunshine and has well-drained soil. If your soil is too heavy or clay-like, you can mix in some sand to improve drainage.

When you're ready to plant, dig a hole that's twice the size of the pot your calla lily is currently in. Gently remove the plant from its pot and loosen any roots that are bound up. Place the plant in the hole so that the top of the root ball is level with the surrounding soil.

Fill in around the root ball with soil, tamping it down gently as you go. Water well after planting. Calla lilies need consistent moisture to thrive, so make sure to keep an eye on watering needs during hot, dry weather.

Mulching around plants will help retain moisture and keep weeds at bay. Fertilize monthly with a balanced fertilizer during active growth periods (spring and summer). With proper care, your calla lilies should bloom for several weeks each year!
Do Calla Lilies Spread
There are many different types of lilies, but the calla lily is one of the most popular. The calla lily is a beautiful flower that comes in many different colors. They are often used in bouquets and arrangements because of their beauty.

Many people don't realize that calla lilies can actually spread and become quite invasive. Calla lilies are native to South Africa, but they have been introduced to many other parts of the world. In some areas, they have become an invasive species.

Calla lilies spread by producing offsets, or small bulb-like structures. These offsets can easily take root and start new plants. Calla lilies can also spread through their seeds.

The seeds are produced in large quantities and can be transported by wind or animals to new areas. If you're thinking about planting calla lilies, it's important to be aware of their potential to spread. If you live in an area where they are not native, it's best to plant them in containers so they can't escape into the wild.

You should also avoid letting the flowers go to seed if you don't want them spreading everywhere!
Planting Calla Lilies in Pots
If you're looking for a stunning and low-maintenance addition to your patio or porch, consider planting calla lilies in pots. These gorgeous flowers are available in a variety of colors and can thrive with just a little bit of care. Here's what you need to know to get started.

When selecting pots for your calla lilies, make sure they have drainage holes in the bottom. Calla lilies prefer moist soil, so choose pots that are large enough to accommodate their roots and provide adequate drainage. If you live in an area with warm winters, you can plant your calla lilies outdoors year-round.

Otherwise, they'll need to be brought indoors before the first frost. To plant your calla lilies, fill the pot with moistened potting mix and dig a hole that's twice as wide as the root ball. Gently loosen the roots and place the plant in the hole, then backfill with soil and water well.

Calla lilies prefer bright indirect sunlight, so place them in a spot where they'll receive plenty of light without being directly exposed to the sun's rays. Water your calla lily when the top inch of soil feels dry to the touch. During active growth periods (spring and summer), you may need to water once per week or more; during dormancy (winter), once every two weeks should suffice.

Be careful not to overwater, as this can lead to fungal diseases like root rot. Calla lilies don't require much fertilizer; once every month or two is usually sufficient.
What to Do With Calla Lilies After They Bloom
After your calla lilies bloom, you can keep them as houseplants. Cut the stem down to about six inches, and put the plant in a pot with fresh potting soil. Water it regularly, and give it bright indirect light.

Your calla lily will likely rebloom in six to eight weeks.
Credit: www.youtube.com
How Do Calla Lilies Multiply?
Calla lilies are a beautiful flower that multiplies in a very interesting way. The plant produces small bulblets on the sides of its leaves. These bulblets eventually fall off and grow into new plants.

Calla lilies can also be propagated by dividing the root ball of an established plant.
Do Calla Lilies Grow from a Bulb?
Yes, calla lilies do grow from a bulb. The bulbs are typically about the size of a golf ball and are planted in the spring. They will bloom in late summer or early fall.

Calla lilies prefer full sun but can tolerate some shade. They need well-drained soil and should be watered regularly.
How Long Does It Take for a Calla Lily to Grow?
A calla lily typically takes around six to eight weeks to grow from a bulb. The exact time will depend on the variety of calla lily and the growing conditions. Once the bulbs are in place, they need to be kept moist and warm until they sprout.

After that, they should be fertilized every two weeks and kept well-watered. When the plants are about eight inches tall, you can start to pinch back the tips to encourage branching and fuller growth.
What is the Life Cycle of a Calla Lily?
The Calla lily is a beautiful and popular flower that is often used in bouquets and floral arrangements. Though they are commonly associated with funerals, they can be enjoyed as part of any spring or summertime decoration. The life cycle of the Calla lily is fascinating, and begins with a small bulb which is planted in soil.

Once the bulb has been placed in soil, it will sprout leaves and a stem. The leaves of the Calla lily are long and narrow, and they wrap around the stem as it grows taller. Eventually, a bud will form at the top of the stem, and this bud will open to reveal a beautiful white flower.

Once the flower has bloomed, it will eventually wilt and die back down to the bulb. The bulb will then enter a period of dormancy until the next growing season, when the cycle begins anew.
How To Grow Calla Lillies
Conclusion
From the Calla Lily growing guide on Gardening Know How, we learn that these beautiful flowers are not actually lilies at all, but members of the Arum family. They are native to South Africa and thrive in warm climates. The easiest way to grow Calla Lillies is from rhizomes, which should be planted in early spring.

They prefer full sun but will tolerate partial shade, and well-drained soil is a must. Once established, Calla Lilies are drought tolerant and don't require a lot of fertilizer.
Resources: