How Long Do Orchids Stay Dormant
Last Updated on July 8, 2023
If you're new to orchids, the word "dormant" might make you think your plant is dead. Dormancy is a natural resting state for many plants, and it's perfectly normal for an orchid to go through a dormant period. The length of time an orchid stays dormant varies depending on the species, but most will enter dormancy in the fall and remain dormant until spring.
Orchids are one of the most popular houseplants, and for good reason! They're beautiful, they come in a wide variety of colors and shapes, and they can bloom for months at a time. But what many people don't realize is that orchids need a period of dormancy in order to thrive.

So how long do orchids stay dormant? It depends on the type of orchid, but most will enter a dormant phase during the winter months. This is when they stop blooming and their leaves begin to yellow.

During this time, it's important to reduce watering and fertilizing, as too much water can rot the roots and too much fertilizer can burn the leaves. Once spring arrives, you can start increasing watering and fertilizing again as the days get longer and warmer. Your orchid should start to show new growth within a few weeks, and it should be back to its full glory by summertime!
How to Revive a Dormant Orchid
If you have an orchid that has been dormant for a while, don't despair! There are a few things you can do to help revive it. First, make sure the potting mix is moist but not soggy.

If it's too dry, water it lightly. If it's too wet, allow the excess water to drain away. Next, check the roots.

They should be white and firm, not mushy or blackened. If they're in bad shape, you may need to repot the orchid. Once you've taken care of the roots, cut back any dead or dying leaves and stems.

This will encourage new growth. Finally, give your orchid some light – but not direct sunlight, which can damage the leaves. An east-facing window is ideal.

With a little love and attention, your dormant orchid will soon be blooming again!
Phalaenopsis Orchid Dormancy
If you're the owner of a Phalaenopsis orchid, you may have noticed that your plant has entered a period of dormancy. Don't worry – this is perfectly normal! In fact, dormancy is an essential part of the Phalaenopsis orchid's life cycle.

During dormancy, the plant will rest and won't produce any new growth. This is a time for the plant to gather its energy so that it can bloom again in the future. It's important to keep your plant healthy during its dormant period by giving it the right amount of water and light.

Once your plant has rested, it will be ready to bloom again – and you can enjoy its beautiful flowers once more!
How Long Do Orchids Live
Orchids are one of the most popular flowers in the world. They're also one of the longest-lived flowers, with some species lasting up to 100 years! While most orchids only bloom for a few weeks each year, their blooms can last much longer when they're cut and placed in a vase.

Orchid flowers have unique shapes and colors that make them stand out in any setting. If you're looking for a long-lasting flower that will add beauty to your home or office, an orchid is the perfect choice!
Orchid Dormant Or Dead
Orchids are one of the most popular houseplants, but they can be finicky. If your orchid isn't blooming, it may be because it's dormant or dead. Here's how to tell the difference:

If your orchid has no leaves and no buds, it is probably dead. If there are any green parts left, you may be able to revive it by giving it some extra TLC (tender loving care). If your orchid has brown/black leaves and no buds, it is probably dormant.

This is normal for certain times of the year (usually winter) and with proper care, your orchid will likely bloom again.
Orchid Dormant for Years
If you have an orchid that has been dormant for years, don't despair! With a little bit of TLC, you can bring it back to life and enjoy its beauty once again. Here's what you need to do:

1. Inspect the plant carefully and remove any dead or dying leaves or roots. Cut away any rotting parts with a sharp knife. 2. Water the plant thoroughly, using lukewarm water.

Allow it to drain completely. 3. Place the orchid in a bright location out of direct sunlight. An east-facing window is ideal.

4. Slowly start to increase the amount of water you give the plant, as well as the frequency with which you water it. Be sure not to overwater – this can lead to more problems down the road! Stick to a schedule of watering every 7-10 days, increasing gradually as needed based on how quickly the potting mix dries out.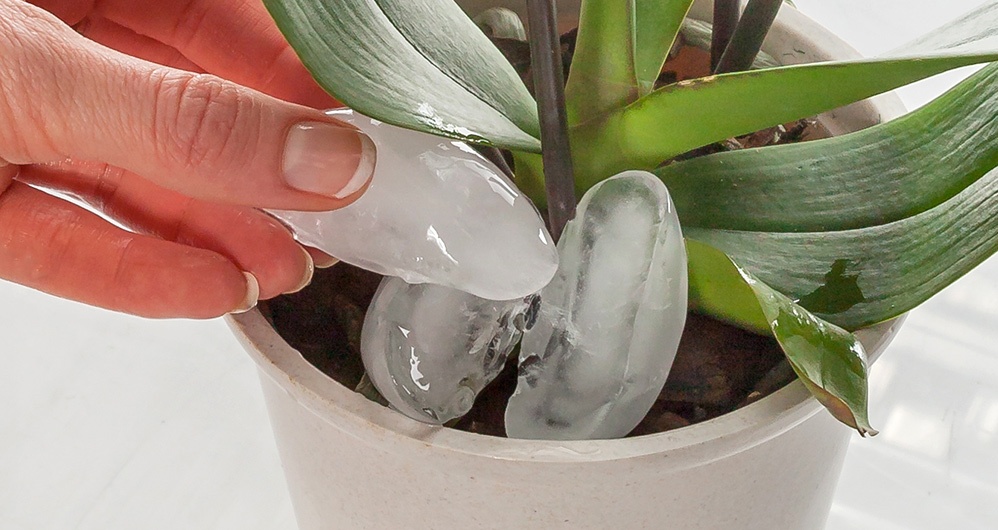 Credit: www.justaddiceorchids.com
How Do You Know When an Orchid is Dormant?
An orchid can become dormant for a variety of reasons including changes in temperature, light, water, and nutrients. Most commonly, an orchid will go dormant during the winter months when there is less sunlight and cooler temperatures. However, an orchid may also go dormant during periods of extreme heat or drought.

There are a few telltale signs that an orchid is beginning to enter dormancy. The leaves of the plant may begin to yellow and wilt, and the flowers may start to fade. The plant will also stop growing new leaves and roots.

Once these signs appear, it is best to reduce watering and fertilizer until the plant enters full dormancy. Once an orchid is fully dormant, it will lose all its leaves and most of its roots. The pseudobulbs (thickened stems) will be the only parts of the plant remaining above ground.

At this point, it is important to stop all watering and fertilizing as the plant does not need any additional nutrients during dormancy. Dormant periods can last for several months depending on the type of orchid and the conditions where it is growing. Once spring arrives and conditions improve, you can start to slowly increase watering and fertilizer as the plant begins to come out of dormancy.
Do You Water Orchids When Dormant?
When it comes to watering orchids, the general rule of thumb is to water them when they are actively growing. However, there are some exceptions to this rule. For example, if your orchid is going through a dormant period, you may not need to water it as often.

During a dormant period, your orchid may not be actively growing new leaves or flowers. However, it is still important to keep an eye on the plant and make sure that it is getting enough water. If the potting mix starts to dry out, you can give your orchid a light watering.

Just be sure not to overwater the plant, as this can lead to problems such as root rot. If you're unsure about whether or not to water your orchid during its dormant period, it's always best to err on the side of caution and give it a little bit of water.
How Do You Get a Dormant Orchid to Bloom?
If your orchid hasn't bloomed in a while, don't despair! There are a few things you can do to encourage it to produce flowers. First, make sure that it is getting enough light.

Orchids need bright, filtered light in order to bloom. If it is not getting enough light, move it to a brighter spot. Next, check the temperature.

Orchids prefer cooler temperatures at night and warmer temperatures during the day. If the temperature isn't ideal, try moving your orchid to a different location in your home. It's also important to make sure that your orchid is getting enough water and fertilizer.

Water your orchid regularly and fertilize it monthly with an orchid-specific fertilizer. Finally, don't forget about pollination! If your orchid is not being pollinated, it will not produce flowers.

Make sure that there are bees or other insects around that can pollinate your plant.
Do Orchids Go Dormant After Blooming?
Orchids are one of the most popular houseplants, and for good reason! They're beautiful, long-lasting, and relatively easy to care for. But even the best gardeners can have questions about their plants from time to time.

One question we get a lot here at The Sill is: do orchids go dormant after blooming? The answer is…maybe! Most orchids will enter a resting phase after they bloom, during which they won't produce any new flowers.

However, this isn't true for all types of orchids—some species will continue to bloom throughout the year with no rest period in between. If your orchid does go into dormancy, don't worry—this is perfectly normal and not cause for alarm. During this time, you can reduce your watering schedule (we recommend once every two weeks) and keep your plant in a cool, bright spot out of direct sunlight.

In a few months, your orchid should start to show signs of new growth as it prepares to bloom again.
Can Asiatic Lilies Survive Winter Outdoors?
Can Asiatic lilies survive winter outdoors? Proper winter care for asiatic lilies is crucial for their survival. These hardy plants can withstand some colder temperatures but may need extra protection in harsh climates. Applying a layer of mulch and cutting back the foliage can help insulate the bulbs and prevent freezing. Adequate drainage and avoiding overwatering also contribute to their longevity throughout the winter months.
Specific Orchid Care During Dormancy (How to Keep your Orchid Alive While In Dormancy)
Conclusion
Orchids are a beautiful and popular type of flower, but many people don't know that they have a dormant period. This is a time when the plant rests and doesn't bloom. Depending on the type of orchid, dormancy can last anywhere from a few weeks to several months.

During this time, it's important to reduce watering and fertilizer. Once the plant starts to show new growth, you can slowly increase water and fertilizer until it blooms again.
Resources: