How to Care for Perennial Day Lillies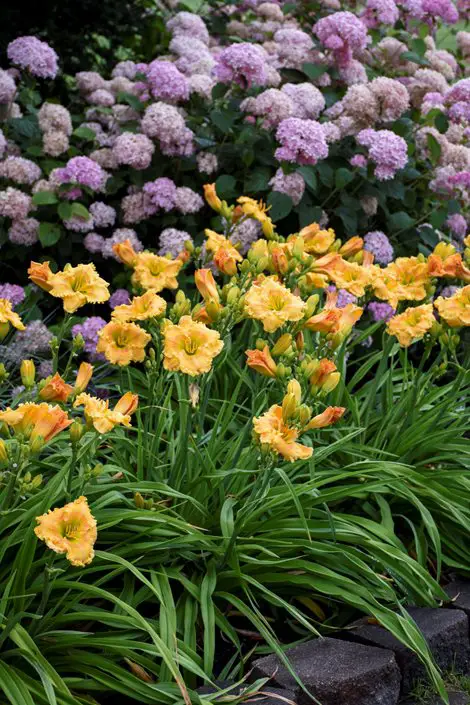 Last Updated on July 8, 2023
Perennial day lilies are one of the easiest flowers to grow and care for. They are low maintenance, drought tolerant, and will bloom for months with little care. Here are some tips on how to care for your perennial day lilies:
The Daylily – Known as " the Perfect perennial." | Propagation Tips & Plant Care
Plant daylilies in an area that receives at least six hours of sunlight per day
Prepare the planting bed by loosening the soil and adding organic matter such as compost or peat moss
Dig a hole that is twice the width of the daylily's roots and plant the daylily at the same depth it was growing in its pot
Water regularly, especially during dry periods, to keep the soil moist but not soggy
Daylilies will tolerate some drought once they are established, but they will bloom best with consistent moisture
Fertilize daylilies three times per year with a balanced fertilizer such as 10-10-10 or 12-12-12
Apply fertilizer when the plants are actively growing in spring and summer, and reduce or eliminate fertilizer applications in fall and winter when growth slows down
How to Care for Daylilies in the Fall
As the temperatures begin to cool and the days grow shorter, it's important to start thinking about how to care for your daylilies in the fall. Here are a few tips to keep in mind: 1. Stop fertilizing your daylilies in early September.

This will allow them to start dormancy and prepare for winter. 2. Cut back the foliage of your daylilies after they have bloomed. This will help prevent disease and pests from overwintering in the dead leaves.

3. Mulch your daylily beds with a layer of straw or leaves in late October or early November. This will protect the roots from freezing temperatures. 4. Divide and replant your daylilies every 3-5 years to keep them healthy and vigorous.

This can be done in late fall or early spring before new growth begins.
Growing Daylilies
Daylilies are not only one of the most popular flowers in the world, but they are also one of the easiest to grow! Whether you're a beginner or a seasoned gardener, daylilies are a great addition to any garden. Here are a few tips on how to grow these beautiful blooms:

1. Choose a sunny spot in your garden. Daylilies need at least six hours of sunlight each day in order to bloom properly. 2. Prepare the soil before planting.

Daylilies prefer well-drained soil that is rich in organic matter. Amend the soil with compost or manure before planting. 3. Plant daylily bulbs (or rhizomes) about four inches deep and 18 inches apart.

If you live in an area with heavy rainfall, you may want to plant them even deeper (up to eight inches). 4. Water your daylilies regularly during the growing season, especially during dry spells. They should be kept moist, but not soggy.

Mulch around the plants will help retain moisture and keep weeds at bay.
Daylilies Sun Or Shade
Daylilies are one of the most versatile and easy-to-grow perennials. They are adaptable to a wide range of growing conditions, including sun and shade. In general, daylilies prefer full sun, but they will also tolerate partial shade.

In fact, some varieties (such as those with double or spidery flowers) perform best in cooler temperatures and may need some relief from the midday heat. When grown in shady conditions, daylilies tend to produce fewer flowers and the blooms may be smaller than those grown in full sun. However, they will still add color and interest to your landscape.

If you have an area of your garden that gets dappled sunlight throughout the day, this is a perfect spot for daylilies. They will also do well under trees or shrubs that provide filtered light. Just be sure to give them plenty of room to spread out since they can become overcrowded in shady areas.
Reblooming Daylilies
If you love the beauty of daylilies, but wish they bloomed more than once a season, then you'll be happy to know that there are now reblooming varieties available. These special daylilies have been bred to bloom not just once in spring or summer, but multiple times throughout the growing season. Here are some tips for success with reblooming daylilies:

-Choose a sunny spot in your garden for best results. Daylilies will tolerate some shade, but they'll produce more flowers if they get at least 6 hours of direct sun each day. -Prepare the soil before planting by amending it with organic matter such as compost or manure.

This will help the roots establish themselves and promote healthy growth. -Water regularly during the growing season, especially during hot weather. Daylilies are drought tolerant, but they'll perform better if they receive consistent moisture.

Try to water early in the day so the foliage has time to dry off before nightfall. With proper care, your reblooming daylilies will provide color and beauty all season long!
How to Care for Daylilies in the Summer
Assuming you would like tips for general care of daylilies in the summer: Watering: Daylilies are relatively drought tolerant once they are established. They should be watered deeply (1-2 inches) about once a week.

If you notice your daylilies wilting, water more frequently. Be sure not to over water as this can lead to fungal problems. Fertilizing: Fertilize your daylilies every 4-6 weeks with a balanced fertilizer such as 10-10-10.

You can also use organic options such as compost or manure tea. Avoid using too much nitrogen as this can cause the leaves to grow faster than the flowers and result in fewer blooms. Pest Control: The most common pests that bother daylilies are aphids and spider mites.

These can be controlled with insecticidal soap or neem oil. Japanese beetles may also nibble on the leaves, but they don't usually cause enough damage to warrant control measures. If you do have a serious infestation, you can try traps or insecticides specifically designed for Japanese beetles.
Credit: www.almanac.com
Are You Supposed to Cut Back Daylilies?
No, you are not supposed to cut back daylilies. Daylilies are a tough and resilient plant that can withstand being left alone. In fact, they will often thrive better when left to their own devices.

If you do choose to cut them back, it is best to wait until the leaves have died back naturally in the fall.
Do Daylilies Need to Be Cut Back for Winter?
No, daylilies do not need to be cut back for winter. They are hardy plants that can withstand cold temperatures. However, you may want to trim off any dead or dying leaves in late fall to tidy up the plant.
What is the Best Way to Care for Daylilies?
Most gardeners are familiar with daylilies (Hemerocallis spp.), those ubiquitous perennials that come in a wide range of colors and bloom profusely from late spring to early summer. Though they're easy to grow, daylilies do require some basic care to perform their best. Here are some tips on how to care for daylilies in your garden.

Daylilies prefer full sun but will tolerate light shade, especially in hot climates. They need well-drained soil and should be watered regularly during the growing season. Daylilies are tolerant of a wide range of soils, but they perform best in rich, loamy soil that is high in organic matter.

After bloom, the spent flower stalks should be removed to keep the plants looking tidy and to prevent seed formation (which can reduce next year's bloom). If you want to save the seeds, however, allow at least one stalk to remain until it dries out and turns brown. Daylilies are generally pest- and disease-free, but they can be susceptible to aphids, leaf spot, rust and other fungal diseases.

To prevent problems, water at the base of the plant rather than wetting the leaves; this will help reduce leaf spot. And be sure to choose resistant varieties when you're purchasing new plants. In late fall or early winter (before the ground freezes), cut back the foliage of herbaceous varieties to 6 inches above ground level; this helps prevent damage from winter winds and also makes for tidier gardens come springtime.

However, don't cut back evergreen types; just remove any dead leaves as needed throughout the year. Divide daylilies every three to four years to maintain healthy growth and abundant blooms; simply dig up the entire plant and replant it in another location or share it with friends! When dividing dayliles, make sure each piece has at least two buds (the small swellings where next year's flowers will form).
Are the Care Instructions for Day Lillies Different for Perennial Varieties?
Are the care instructions for day lilies different for perennial varieties? Properly caring for day lilies is crucial for their longevity. While perennial day lilies are known for their ability to survive harsh conditions, they still require attention. Following general care guidelines, such as watering adequately and providing proper sunlight, is essential. Nonetheless, it's always recommended to consult specific care instructions for the particular variety of day lily you have in your garden.
How Many Years Do Daylilies Last?
How many years do daylilies last? This is a great question because it allows us to show off the versatility and durability of these plants! Daylilies are among the longest-lived perennials, often continuing to bloom for decades with little or no care.

In fact, some daylily cultivars have been known to last 100 years or more! Of course, the actual lifespan of a daylily will depend on a number of factors, including the species or cultivar (some are shorter-lived than others), growing conditions (daylilies grown in ideal conditions will usually live longer than those that aren't), and how well they're cared for (plants that are regularly fertilized, watered, and deadheaded tend to last longer than those that aren't). Assuming you're growing dayliles in average conditions and caring for them properly, you can expect most cultivars to live 10-20 years, with some lasting even longer.

So why not choose a few of your favorites and enjoy their beauty year after year?
Conclusion
Perennial day lilies are a beautiful addition to any garden, and with proper care, they will bloom for years to come. Here are some tips on how to care for your day lilies: -Plant day lilies in an area that receives full sun for at least 6 hours per day.

-Day lilies prefer well-drained soil. If your soil is heavy or clay-like, amend it with sand or compost before planting. -Water day lilies deeply and regularly during the growing season (spring through fall).

They should be watered about once per week, or more if the weather is hot and dry. -Fertilize day lilies twice a year, in early spring and mid-summer, with a balanced fertilizer such as 10-10-10. Be sure not to overfertilize, as this can damage the roots.

-After the blooming period is over (usually in late summer), cut back the foliage by about half its height. This will help encourage new growth next season.
Resources: