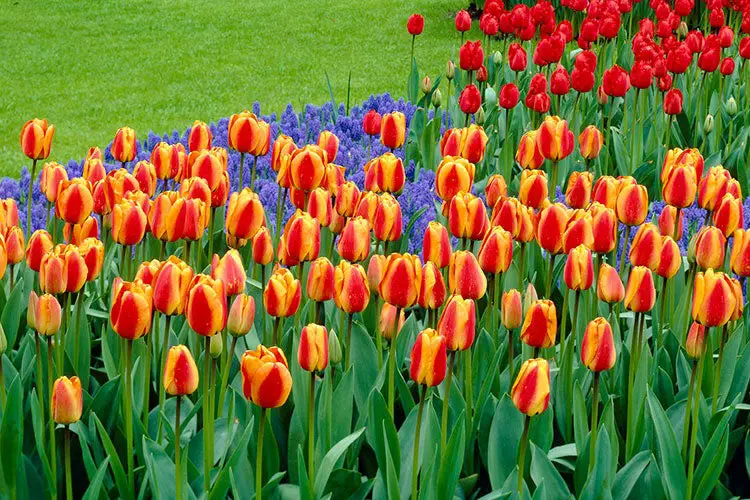 Last Updated on July 8, 2023
Tulips are one of the most popular spring flowers, and with good reason. They're relatively easy to grow and come in a wide range of colors. Plus, they're just plain pretty.

If you want to add some tulips to your garden this year, here are a few tips on how to help them grow. One of the most important things to remember when growing tulips is that they need full sun. So if you live in an area with long winters and short summers, make sure to choose a spot in your yard that gets plenty of sunlight.

Tulips also like well-drained soil, so if your yard tends to be wet after rainstorms, you may want to consider planting them in raised beds or mounds.
TULIPS 101: GROWING TULIPS FOR BEGINNERS
Plant tulips in the fall, about six weeks before the first frost
Choose a sunny spot with well-drained soil for planting
Dig a hole that is twice as wide and deep as the bulb
Place the bulbs in the hole with the pointed end up and cover with soil
Water regularly and fertilize monthly until flowers appear
How to Grow Tulips Indoors
Tulips are one of the most popular flowers in the world, and they make a beautiful addition to any indoor space. If you're looking for a way to add some extra color and life to your home, growing tulips indoors is a great option. Here's everything you need to know about how to grow tulips indoors:

Tulip bulbs need a period of chilling before they will bloom, so it's best to plant them in the fall. You can either plant the bulbs directly in potting soil, or start them off in peat pots. Once the bulbs are planted, water them well and place them in a cool, dark location for 12-16 weeks.

After the chilling period, move the pots into a sunny spot and water regularly. The tulips should start to sprout within a few weeks. When the plants are about 6 inches tall, pinch off the tips to encourage bushier growth.

Once the tulips bloom, enjoy their beauty for as long as possible by keeping them out of direct sunlight and watering them regularly. When the blooms start to fade, cut off the stem at its base and allow the bulb to dry out completely before storing it away for next year.
How to Grow Tulips at Home
One of the most popular flowers, tulips are a classic choice for springtime gardens. These lovely blooms come in a wide range of colors, making them perfect for adding a splash of brightness to any garden. While they're typically associated with cold weather climates, tulips can actually be grown in a wide range of locations.

With a little care, you can enjoy these beautiful flowers in your own home. Here are some tips on how to grow tulips at home: Choose the right location: Tulips need full sun to partial shade in order to thrive.

They also prefer well-drained soil that is not too wet or too dry. If you're not sure about the drainage in your chosen location, you can always test it by digging a small hole and filling it with water. If the water drains away within an hour or two, then the location should be fine for growing tulips.

Prepare the soil: Before planting your tulips, it's important to prepare the soil properly. Add some organic matter such as compost or manure to improve drainage and help retain moisture. You may also want to add bone meal or other fertilizer to give your plants a boost.

loosen up the soil so that roots can easily penetrate it when planting time comes around. Plant at the right time: The best time to plant tulips is in fall, around six weeks before the first frost date in your area. This gives them enough time to establish root systems before winter sets in.

When selecting bulbs for planting, look for ones that are firm and free from blemishes or moldy spots. Large bulbs will produce larger blooms, so keep this in mind when choosing what size bulbs to buy . Once you have everything you need , simply dig holes that are twice as deep as your bulbs , and plant them pointy side up .

Water well after planting , and then mulch over top with straw , leaves , or grass clippings . This will help protect your plants from extreme temperature changes and prevent moisture loss . In springtime , once shoots start poking through the ground , remove any mulch material so that new growth isn't impeded . Be sure to keep an eye out for weeds which can quickly choke out young plants if left unchecked .
Best Soil for Tulips in Pots
Tulips are one of the most popular spring flowers and they make a beautiful addition to any home. If you're planning on growing tulips in pots, it's important to choose the right type of soil. The best soil for tulips in pots is a light, well-drained soil.

Tulips need a lot of sunlight and they won't do well in heavy or clay soils that don't drain well. You can buy special potting mix for bulbs at your local garden center or you can make your own by mixing equal parts sand, peat moss, and perlite. When planting tulips in pots, be sure to plant them deeper than you would if you were planting them in the ground.

This will help support the stem as the bulb grows. Place the bulb in the pot so that the pointed end is facing up and cover with soil. Water well and place the pot in a sunny spot.

With proper care, your tulips should bloom within 4-6 weeks. Once they start to fade, cut off the flower heads and allow the foliage to die back naturally. This will provide nutrients to next year's crop of bulbs.
Planting Tulips in Groups
When it comes to planting tulips, there are a few things you should keep in mind. First, it's important to plant them in groups. This will give them the best chance to thrive and produce beautiful blooms.

Second, make sure you plant them at the right time of year. The best time to plant tulips is in the fall, before the first frost. This way, they'll have a chance to establish themselves before winter sets in.

Finally, give them plenty of room to grow. Tulips need space to spread their roots and reach their full potential. By following these simple tips, you'll be sure to enjoy a stunning display of tulips come springtime!
How to Plant Tulip Bulbs in the Fall
Tulips are one of the most popular spring-flowering bulbs, and planting them in the fall is the best way to ensure a colorful display come springtime. Here's how to do it: 1. Choose a sunny spot in your garden that has well-drained soil.

tulips need full sun to produce strong stems and vibrant flowers. 2. Dig a hole about 8 inches deep and place the bulb pointy side up inside. Space bulbs about 6 inches apart so they have room to grow.

3. Cover the bulbs with soil, then water thoroughly. Be sure to water regularly during the fall so the ground doesn't freeze before the bulbs have a chance to root properly. 4. Come springtime, you should see tall green shoots poking up through the soil – these are your tulips!

Allow them to grow until they bloom, then enjoy their beauty for weeks to come!
Credit: www.youtube.com
What Kind of Soil Do Tulips Need
Tulips need well-drained, sandy soil with a neutral pH. They also need full sun and good air circulation. If your soil is too heavy or clay-like, you can add sand to improve drainage. You should also make sure there is plenty of room for the roots to spread out.
How Often Should I Water My Tulips
It is important to water your tulips regularly to keep them healthy and hydrated. However, you should be careful not to over-water them as this can cause the bulbs to rot. A good rule of thumb is to water them once a week, making sure that the soil is moist but not soggy.

If the weather is particularly hot or dry, you may need to water them more frequently.
Do Tulips Need a Lot of Sun Or Shade
Most tulips need full sun to grow and bloom well, although a few varieties will tolerate partial shade. In hot summer areas, it's best to provide some afternoon shade for tulips. They also prefer well-drained soil rich in organic matter.
Should I Fertilize My Tulips
If you want your tulips to bloom beautifully and remain healthy, then fertilizing them is a must. There are many different types of fertilizer that you can use on tulips, but make sure to consult a gardening expert before applied any type of fertilizer to your plants. With the right amount of fertilizer, your tulips will thrive and produce stunning blooms year after year.
Can the Same Techniques be Used to Grow Peacock Orchids and Tulips?
When it comes to growing peacock orchids effectively and tulips, different techniques are needed. While both plants require well-draining soil and adequate water, peacock orchids thrive in warm environments with plenty of sunlight, while tulips prefer cooler climates and partial shade. Understanding the specific needs of each plant is essential for successful cultivation.
Are There Any Pests Or Diseases That Commonly Affect Tulips
Tulips are a beautiful flower that is commonly seen in gardens. While they are typically hardy, there are a few pests and diseases that can affect them. One of the most common is tulip break virus, which can cause the leaves to turn yellow or brown and the flowers to become discolored.

This virus is spread by aphids and other insects, so it's important to control these pests in your garden. Other common problems include powdery mildew, gray mold, botrytis, and leaf spot. These can all be controlled with proper care and treatment from a gardener or landscaper.
Conclusion
It is not difficult to grow tulips, but there are a few things you can do to help them along. First, choose a sunny spot in your garden for them to grow. Tulips need at least six hours of sunlight each day.

Second, make sure the soil is well-drained. Tulips will not do well in soggy soil. Third, fertilize your tulips before they bloom and then again after they have finished blooming.

This will give them the nutrients they need to produce beautiful flowers. Finally, deadhead your tulips as they fade to keep them looking their best. With just a little care, you can enjoy gorgeous tulips in your garden for many years to come!
Resources: