What Do Calla Lillies Mean
Last Updated on July 9, 2023
Of all the flowers, Calla Lilies may be one of the most elegant and beautiful. They have a graceful shape and come in many colors, from white to yellow to pink to purple. But what do they mean?

Calla Lilies generally symbolize rebirth and beauty. In ancient Greek mythology, Calla Lilies were associated with Hera, the goddess of marriage and childbirth. They also symbolized purity and innocence.

In Christianity, Calla Lilies represent the resurrection of Christ.
Calla Lilies are one of the most popular flowers for weddings and other special occasions. But what do they actually mean? Interestingly, Calla Lilies can symbolize a few different things depending on their color.

White Calla Lilies represent purity and innocence, while yellow Calla Lilies often symbolize gratitude. Pink Calla Lilies are sometimes associated with admiration, while red ones can signify passion or romance. Overall, though, Calla Lilies tend to be seen as a symbol of beauty.

They're elegant flowers that add a touch of class to any arrangement, which is why they're so popular for formal events. So if you're looking for a flower that will impress your guests and make your event look more luxurious, consider adding some Calla Lilies!
Spiritual Meaning of Calla Lily
The Calla Lily is a beautiful flower that has many different meanings depending on the culture. In most cases, the Calla Lily represents purity, innocence and rebirth. The meaning of the Calla Lily can also be associated with marriage and motherhood.

The name "Calla" is derived from the Greek word for beauty, while "Lily" is a symbol of purity. Together, these two meanings make the Calla Lily a perfect gift for someone you love who has just been through a difficult time. The Calla Lily can also be given as a congratulations flower for new beginnings, such as a new job or promotion.

In some cultures, the Calla Lily is seen as a funeral flower. This is because of its association with death and rebirth. The white color of the lily symbolizes purity and innocence, while the shape of the flower resembles a coffin.

Despite this somber meaning, many people still choose to give Calla Lilies at funerals as a sign of hope and renewal.
Black Calla Lilies Meaning
If you were to ask someone what their favorite flower was, chances are that a good portion of them would say "lilies." And if you were to ask someone what their favorite color was, a lot of them would say "black." Well, put the two together and you have one amazing flower – the black calla lily.

These flowers are not only beautiful, but they also hold a lot of meaning. In fact, the black calla lily is often associated with death and mourning. But it doesn't have to be all doom and gloom – these flowers can also symbolize rebirth and new beginnings.

No matter what you believe their meaning to be, there's no denying that black calla lilies are stunning flowers. If you're looking for something different for your next bouquet or floral arrangement, definitely give these a try!
Calla Lily Meaning Death
When you think of the meaning of death, what probably comes to mind is something negative, like an end to life or the cessation of existence. However, the meaning of death can also be interpreted in a more positive light. The Calla Lily is a beautiful flower that symbolizes rebirth and new beginnings.

This makes it the perfect flower to give someone who has experienced loss or gone through a difficult time. The Calla Lily can also represent purity and innocence, which makes it a popular choice for baby showers and christenings.
Calla Lily Flower Meaning in Hindi
The calla lily is a beautiful flower that has a deep meaning in many cultures. In Hindi, the calla lily is known as the "sankhpushpi" which means "conch flower". The conch shell is a very sacred object in Hinduism and is often used in religious ceremonies.

The calla lily also symbolizes purity and innocence.
Purple Calla Lily Spiritual Meaning
The purple calla lily has a rich spiritual meaning that dates back to ancient times. This beautiful flower is associated with royalty, elegance, and wealth. The color purple also symbolizes power, luxury, and mystery.

The calla lily is native to South Africa and was first introduced to Europe in the 1600s. It quickly became a popular ornamental plant due to its showy flowers and elegant form. Today, the calla lily is still widely grown around the world and is a popular choice for cut flowers.

Despite its modern popularity, the purple calla lily has a long history of being associated with spirituality and mysticism. In many cultures, the calla lily is seen as a symbol of rebirth or new beginnings. It's also often used as a funerary flower to represent the cycle of life and death.

The spiritual meaning of the purple calla lily can vary depending on your beliefs or traditions.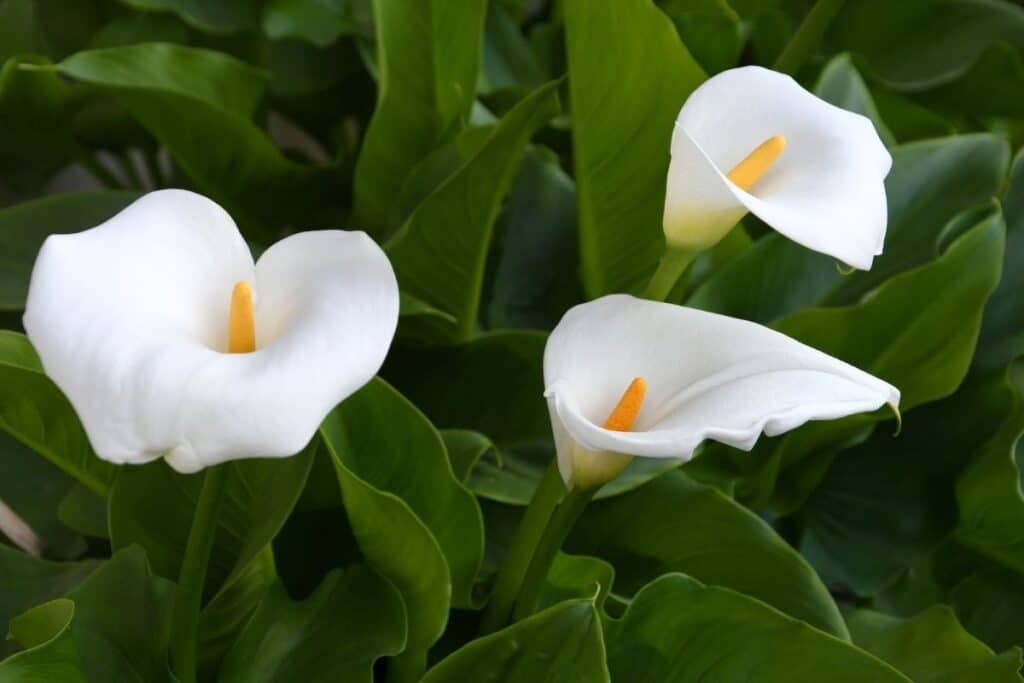 Credit: florgeous.com
Are Calla Lilies Good Luck?
There is no definitive answer to this question as it depends on individual beliefs and superstitions. Some people believe that calla lilies bring good luck, while others believe that they are unlucky. There is no scientific evidence to support either belief.

It is ultimately up to the individual to decide whether they believe calla lilies are good luck or not.
What Does a Yellow Calla Lily Represent?
A yellow calla lily typically symbolizes appreciation, admiration or respect.
What Do Blue Calla Lilies Mean?
There are many flowers that symbolize different things, and the meaning of blue calla lilies may surprise you. These beautiful blooms can actually represent a few different things depending on the context in which they are given. Here are a few of the most common meanings associated with blue calla lilies:

1. New Beginnings – Blue is often seen as a color that represents new beginnings, so it's no surprise that blue calla lilies can symbolize this as well. If you're giving someone a bouquet of these to celebrate a new chapter in their life, they'll know exactly what you mean. 2. Trust – The deep blue hue of these flowers can also be seen as a symbol of trust.

If you give someone blue calla lilies, it's like telling them that you trust them implicitly and believe in them wholeheartedly. This is a great way to show your support for someone during tough times. 3. Loyalty – In addition to trust, blue calla lilies can also represent loyalty.

This makes them ideal gifts for close friends or family members who have always been there for you through thick and thin. Showing your loved ones how much you appreciate their loyalty is sure to make them feel special.
What Do Canna Lilies Symbolise?
Canna lilies are a type of flowering plant that is native to tropical and subtropical regions. The plants can grow up to six feet tall and produce large, brightly colored flowers. Canna lilies are popular garden plants and are also used in floral arrangements.

The flowers of the canna lily symbolize prosperity, good fortune, and luck. The plants are also associated with fertility and sensuality. In some cultures, canna lilies are believed to have magical powers and are used in rituals and spells.
Calla Lily Flower Meaning – The Hidden Meaning Of Flowers
Should I Do Anything Special After Calla Lilies Bloom?
Once calla lilies bloom, they require specific care after lilies flower to ensure their well-being. Maintain their aesthetic appeal by removing wilted blooms and yellowing leaves regularly. Prune the plant to encourage new growth. Provide ample sunlight, water consistently, and nourish with balanced fertilizer. Additionally, protect them from extreme temperature changes after lilies flower.
Conclusion
A Calla lily is a flower that has a wide range of meaning. They can represent purity and innocence, as well as beautiful and majestic. In some cultures, the flowers are also associated with death.
Resources: