What to Plant With Lillies?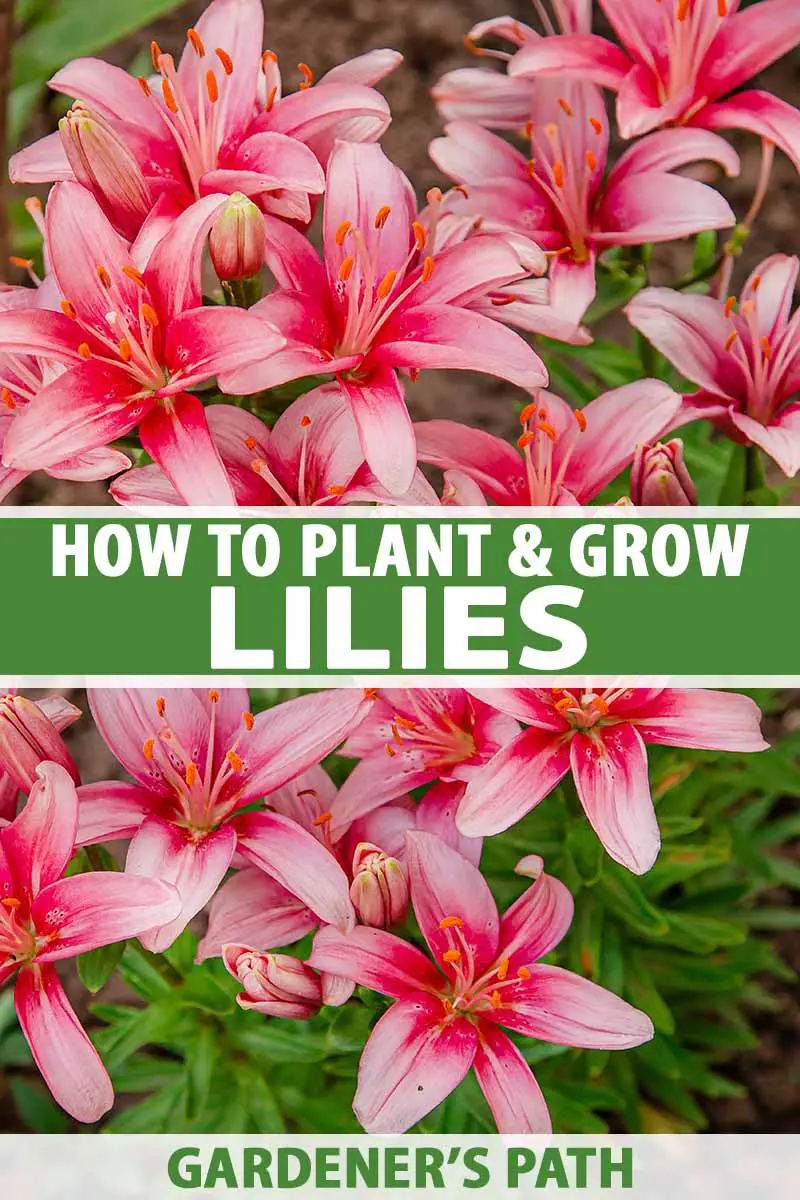 Last Updated on September 14, 2023
Lillies are a beautiful and fragrant addition to any garden, but did you know that there are several things you can plant with lilies to create an even more stunning display?
Lilies are one of the most popular flowers in the world. They come in a wide range of colors and sizes, and they have a long blooming season. But what do you plant with lilies?

There are a few things to consider when choosing plants to accompany your lilies. First, think about the height of the plants. Lilies can range from a few inches tall to several feet tall, so you'll want to choose plants that will be in proportion.

Secondly, consider the color of the flowers. You'll want to choose plants that will complement the lily's color or provide contrast. Finally, think about the bloom time.

Choose plants that will bloom at different times so that your garden has continuous color throughout the growing season. Some good choices for companion plants include daylilies, irises, hostas, ferns, and sedums. With so many options available, you're sure to find just the right plants for your garden!
Where and How to Grow Lilies
What to Plant With Tiger Lilies
Tiger lilies are a beautiful addition to any garden, and they're relatively easy to care for. But if you want your tiger lilies to really thrive, it's important to choose the right plants to companion them. Here are a few of our favorite plants to pair with tiger lilies:

1. Hostas – Hostas are perfect for adding some green foliage beneath your tiger lilies. They also prefer shady areas, so they're ideal for filling in any bare spots in your garden that don't get a lot of sun. 2. Ferns – Like hostas, ferns love shady areas and will add a beautiful touch of greenery to your garden.

They also help keep the soil moist, which is ideal for tiger lilies (and other moisture-loving plants). 3. Bleeding Hearts – These charming flowers bloom in early spring, making them the perfect companions for tiger lilies, which typically bloom later in the summer. The two plants will provide color in your garden from early spring all the way through late summer!
Ideas for Planting Lilies
Looking to add some lilies to your garden? Here are a few ideas to get you started! Asiatic lilies are some of the easiest to grow and make great additions to any garden.

They come in a wide range of colors, including white, yellow, pink, red, and orange. Asiatic lilies prefer full sun and well-drained soil. If you're looking for something a little more unusual, try planting tiger lilies.

These flowers have large, showy petals that are striped with dark brown or black markings. Tiger lilies prefer partial sun and moist, well-drained soil. Another option is the daylily.

Daylilies come in many different colors and can even be found in variegated varieties. They're easy to care for and tolerate a wide range of growing conditions. Dayliles prefer full sun but will also do well in partial shade.

No matter what type of lily you choose, they'll add beauty and interest to your garden!
Asiatic Lily Companion Plants
The Asiatic Lily is a beautiful and popular flower that is often used in bouquets and arrangements. While they are stunning on their own, adding some companion plants can really make them stand out. Here are some great companion plants to use with your Asiatic Lilies:

Ferns: Ferns add a lovely, lush look to any garden and pair well with Asiatic Lilies. They also help to create a shady environment around the lilies, which they appreciate. Hostas: Hostas are another plant that helps to create a shady spot for your lilies.

They have large leaves that provide plenty of coverage and their flowers also make a nice addition to the garden. Daylilies: Daylilies are the perfect compliment to Asiatic Lilies. Their tall stems and showy flowers make them a natural choice for pairing with lilies.

Plus, they bloom at the same time so you'll have continuous color in your garden all season long!
Surprise Lily Companion Plants
When it comes to planting Surprise Lilies, also known as Magic Lilies or Naked Ladies, the best companions are those that bloom at the same time. Here are some great choices: Blazing Star (Liatris spicata)

Butterfly Weed (Asclepias tuberosa) Coneflower (Echinacea purpurea) Daylily (Hemerocallis sp.)

Evening Primrose (Oenothera biennis) These plants will not only provide complementary blooms, but they also share similar cultural requirements. All of them prefer full sun and well-drained soil.

Deadheading spent flowers will prolong bloom time for all of these plants.
Credit: mynortherngarden.com
What Do Lilies Pair Well With?
Lilies are a classic and elegant flower, and they pair well with many different types of flowers. They look beautiful on their own in a vase, or you can mix them with other flowers to create a stunning arrangement. Here are some ideas for flowers that pair well with lilies:

Roses: Roses are a classic choice for pairing with lilies. The two flowers have very different shapes and textures, but they come together perfectly in an arrangement. Tulips: Tulips are another great option for pairing with lilies.

They have a similar shape, but their petals are much thinner than those of a lily. This makes for a beautiful contrast in an arrangement. Daisies: Daisies are a fun and cheerful flower that looks great paired with lilies.

Their small size means they can be tucked into any gaps in the arrangement, adding pops of color here and there.
How Many Lilies Should I Plant Together?
If you're looking to add some lilies to your garden, you might be wondering how many of these beautiful flowers you should plant together. While the number of lilies you ultimately choose to group together will depend on personal preferences and the size of your garden bed, there are a few general guidelines you can follow. As a rule of thumb, it's generally best to plant at least three or four lilies together.

This will give your plants ample space to spread out and grow without crowding each other. Plus, planting in small groups will help ensure that each individual plant gets the light and nutrients it needs to thrive. Of course, if you have a large garden bed or are particularly fond of lilies, feel free to plant even more!

Just be sure not to overcrowd your plants, as this can lead to stunted growth and fewer blooms.
Where Should Lilies Be Planted?
Lilies are one of the most classic and elegant flowers, and they make a beautiful addition to any garden. But before you can enjoy their beauty, you need to know where to plant them. Here are some tips on where to plant lilies for the best results:

-Lilies prefer a sunny spot in the garden that gets at least 6 hours of sun per day. They will also do well in partial shade. -The soil should be rich and well-drained, with a pH between 6.0 and 7.5.

Add compost or organic matter to the soil before planting lilies to help improve drainage and fertility. -Lilies need room to grow, so plant them at least 18 inches apart (larger varieties may need even more space). -It's important to water lilies regularly, especially when they're first getting established in your garden.

Water deeply once or twice a week during dry spells.
Can Lilies And Daylilies Be Planted Together?
Lilies and daylilies can be planted together in the same garden bed. They are both perennials, meaning they will come back year after year. Lilies prefer full sun to partial shade, while daylilies prefer partial sun to full shade.

Lilies will bloom in early to mid summer and daylilies will bloom in mid to late summer. Planting them together will give you a longer blooming season for your garden.
Conclusion
Lillies are a beautiful and popular flower, but they can be tricky to grow. Here are some tips on what to plant with lilies to make sure they thrive. When planting lilies, it's important to choose the right location.

They need full sun and well-drained soil. If you have heavy clay soil, mix in some sand or organic matter to improve drainage. Lilies also prefer neutral to slightly acidic soil, so if your soil is alkaline, add some sulfur or composted leaves.

Once you've found the perfect spot, dig a hole that's twice as wide as the lily bulb and just deep enough so the tip of the bulb is level with the soil surface. Gently loosen the roots and place the bulb in the hole pointed side up. Backfill with soil and water well.

Lilies need regular watering during their growing season (spring and summer), but they're drought tolerant once they're established. Be sure to water deeply at least once a week during dry spells. Mulching around lilies helps retain moisture and keeps weeds at bay.

Lilies are relatively pest-free, but aphids can be a problem. These tiny insects suck sap from plants, causing stunted growth and distorted leaves. To get rid of aphids, blast them off with a strong spray of water or treat with an insecticidal soap or neem oil solution following label directions carefully.
Resources: