Last Updated on July 8, 2023
Lilies are one of the most popular flowers in the world. They come in a wide range of colors and their elegant shape makes them a favorite for bouquets and arrangements. While lilies typically don't last more than a week or two when cut, they can be enjoyed much longer when grown in the garden.

Many people don't realize that lilies multiply, making them an excellent choice for those looking to add more of these beautiful flowers to their landscape.
Do you love the look of lilies in your garden but feel like you can never have enough? Well, good news – lilies multiply! With a little bit of care, you can soon have a beautiful lily display that will be the envy of all your neighbors.

Here's what you need to know about multiplying lilies. Lilies are perennials, which means they come back year after year. They multiply by producing offsets, or small bulbs, that form around the mother bulb.

You can dig up these offsets and replant them to create new plants. The best time to dig up offsets is in late summer or early fall, after the leaves have died back but before the first frost. Carefully dig up the entire plant, being careful not to damage the offsets.

Gently brush away any dirt and then replant the offsets in well-drained soil, spacing them about 6 inches apart. Water well and keep an eye on them over the next few weeks; if they start to wilt, give them a little extra water. With just a little bit of effort, you can easily multiply your lilies and enjoy their beauty for many years to come!
Lily Propagation: How to Scale Lily Bulbs – Multiplying Lily Bulbs in the Cut Flower Garden
Do Asiatic Lilies Multiply
Asiatic lilies are one of the most popular types of lilies, and they're also one of the easiest to care for. They multiply quickly and produce an abundance of flowers, making them a great choice for gardeners who want a lot of color without a lot of hassle. When it comes to multiplication, Asiatic lilies are true champions.

One plant can easily produce dozens of offsets (baby plants) in just a few years. In fact, if you're not careful, an Asiatic lily can quickly take over your garden! If you want to control the spread of your Asiatic lily, it's best to remove the offsets as soon as they appear.

You can pot them up and give them away to friends, or simply compost them. Once you've removed the offsets, your Asiatic lily will focus its energy on producing even more flowers – which is exactly what you want it to do!
Do Tree Lilies Multiply
If you're looking for a beautiful, easy-to-grow lily, tree lilies are an excellent choice. These stunning flowers come in a variety of colors and can reach heights of 6 feet or more. And best of all, they multiply readily!

Here's what you need to know about growing and multiplying tree lilies. Tree lilies are actually not true lilies at all, but rather members of the genus Lilium.
Do Easter Lilies Multiply
Few plants are as synonymous with Easter as the lily. These beautiful flowers have been associated with the holiday for centuries and continue to be a popular choice for decorating homes and churches during this time of year. But what many people don't realize is that Easter lilies can actually multiply!

Here's how it works: Once the blooms on your Easter lily plant have faded, you can cut off the stem about 6 inches above the bulb. Then, plant the bulb in well-draining soil and water regularly. In just a few months, you should see new shoots emerging from the ground.

Once these have grown to about 6 inches tall, you can then transplant them into larger pots or your garden beds. And before you know it, you'll have plenty of Easter lilies to enjoy for years to come!
Do Stargazer Lilies Multiply
Stargazer lilies (Lilium 'Stargazer') are one of the most popular lily varieties, and for good reason! These beautiful flowers feature large, showy blooms in a variety of colors. One of the best things about stargazer lilies is that they multiply quickly and easily, making them a great choice for gardeners who want to add more of these lovely flowers to their landscape.

Here's what you need to know about multiplying stargazer lilies: The easiest way to multiply stargazer lilies is by dividing the bulbs. This can be done in either spring or fall.

Simply dig up the bulbs, and then use a sharp knife to carefully divide them into smaller sections, making sure each section has at least one bud. Plant the divided bulbs in well-drained soil at a depth of about 8 inches, and water regularly until new growth appears. If you don't want to dig up your existing stargazer lily bulbs, you can also propagate new plants from seed.

This takes longer than bulb division (it will take several years for your seedlings to bloom), but it's still relatively easy to do. Start by planting fresh seeds in pots filled with sterile potting mix. Keep the pots moist but not soggy, and provide plenty of bright indirect light.

Once your seedlings have reached a few inches tall, you can transplant them outdoors into prepared beds where they'll have room to grow and multiply over time!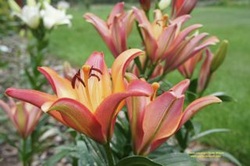 Credit: gardenerscott.com
Do Lilies Spread on Their Own?
Lilies are a genus of flowering plants that includes a number of different species, most of which are native to the temperate Northern Hemisphere. Many lilies, such as the Easter lily (Lilium longiflorum), are widely cultivated and have become naturalized in many regions. Most lilies grow from bulbs, and they will typically spread through bulb division.

This means that if you have a lily plant, it will gradually produce more bulbs over time. These new bulbs can then be replanted to create new lily plants. Some species of lily also produce offsets – small bulbils that develop along the sides of the main bulb.

These offsets can be removed and replanted to create new plants. In general, lilies do not self-seed very effectively, so you're unlikely to find them growing spontaneously in your garden unless they were planted there intentionally. However, if you have bees or other insects visiting your lilies, they may carry pollen from one plant to another, resulting in seed production.

These seeds are generally not viable, but in some cases they may germinate and produce new plants.
How Fast Do Lilies Multiply?
If you're looking to add some color and life to your garden, lilies are a great option. But how fast do they multiply? In general, lilies multiply quite quickly.

Depending on the species, they can double or triple in size each year. So if you start with just a few bulbs, you'll likely have a lot more by the end of the season. Of course, this also means that lilies can easily take over a garden if left unchecked.

But with a little bit of planning and care, you can keep them under control and enjoy their beauty for years to come.
Do Lilies Bloom More Than Once?
Lilies bloom more than once. In fact, they can bloom several times a year if they are cared for properly. To get the most blooms from your lilies, you will need to fertilize them monthly and keep them well-watered.

Additionally, you should deadhead spent blooms to encourage new ones to form. With proper care, you can enjoy beautiful lily blooms all season long!
Do Calla Lilies Multiply in the Same Way as Other Lilies?
Calla lily multiplication explained: Unlike other lilies, calla lilies do not multiply through bulbs. Instead, they multiply by producing offsets or rhizomes. These underground stems extend horizontally and generate new plants. While some calla lily varieties are clump-forming and create dense clusters, others grow individually. This unique multiplication method adds to the charm and versatility of these elegant flowers.
Do Lilies Regrow After Cutting?
Lilies are one of the most popular flowers in the world. They come in many different colors and their elegant shape makes them a favorite for bouquets and arrangements. But what happens when you cut a lily?

Do they regrow? The answer is yes, lilies do regrow after cutting. However, it is important to note that not all lilies will regrow equally.

Some varieties of lilies are more difficult to get to rebloom than others. In general, Asiatic lilies are the easiest to get to reflower, while Oriental lilies are more difficult. If you want to encourage your cut lily to regrow, there are a few things you can do.

First, make sure that you cut the stem at an angle so that more surface area is exposed. This will help the plant absorb more water and nutrients. Second, place the stem in warm water immediately after cutting.

This will help stimulate growth. Finally, be patient! It can sometimes take several weeks for a cut lily to begin blooming again.
Conclusion
Lilies are beautiful flowers that multiply easily. You can plant lilies in your garden and they will come back every year, getting bigger and stronger each time. Lilies are also very easy to propagate from bulbs, so if you have a friend with a lily patch, you can easily start your own.
Resources: