How to Care for Spider Lillies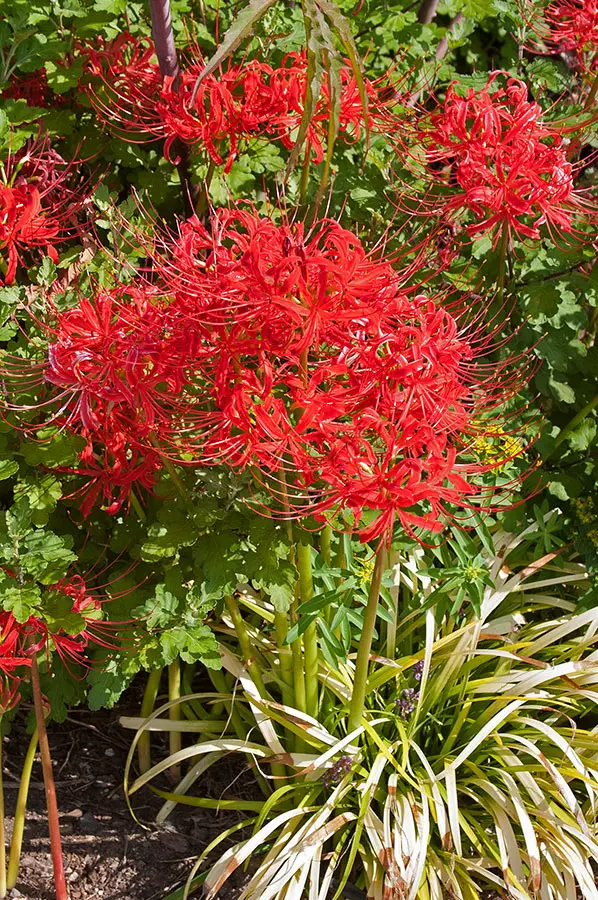 Last Updated on July 9, 2023
Spider lilies are a type of plant that is known for its beautiful flowers. These plants are easy to care for, and they make a great addition to any garden.
SPIDER LILY PLANT: Growing from Bulbs with Results and Spiderlily Care Tips
Spider lilies are relatively easy to care for and make great additions to any garden
They prefer full sun to partial shade and well-drained soil
Water spider lilies regularly, especially during hot, dry weather
Fertilize spider lilies once a year with a general purpose fertilizer
Deadhead spent flowers as they fade to keep plants looking neat and tidy
When to Divide Spider Lilies
Spider lilies are a type of flower that many people enjoy having in their gardens. However, spider lilies can sometimes get out of control and need to be divided. Dividing spider lilies is not difficult to do, but it is important to know when the best time to do it is.

The best time to divide spider lilies is in the fall after they have bloomed. This will give the plant time to recover from being divided before it has to bloom again. To divide spider lilies, simply dig up the entire plant and then carefully divide the root ball into two or three sections.

Replant each section in a different part of your garden and water well. Dividing spider lilies every few years will keep them healthy and blooming well. If you have never divided spider lilies before, fall is the perfect time to start!
When Do Spider Lilies Bloom
In late summer and early fall, you may see spider lilies (Lycoris radiata) blooming in damp areas with full sun. These bulbs are native to Japan, Korea, and China, and have been introduced to the southeastern United States. The plants get their common name from the shape of their flowers, which resemble spiders or daddy long-legs.

Each plant produces 2-3 strap-like leaves that emerge in spring, die back in summer, and reemerge when the flowers appear in late summer or early fall.
Do Spider Lilies Spread
Spider lilies are a type of bulbous plant that produces beautiful, fragrant flowers. The petals of spider lilies are white with crimson streaks running through them, and the plant gets its name from the way its flowers resemble spiders. Although they're often planted as ornamental plants, spider lilies can also be used in traditional medicine.
How to Store Spider Lily Bulbs
If you want to store your spider lily bulbs for future planting, there are a few things you need to do. First, dig up the bulbs and brush off any excess dirt. Next, allow the bulbs to dry in a cool, dark place for about a week.

Once they're dried out, you can store them in a mesh bag or container in a cool, dry place until spring. When it's time to plant them again, simply replant the bulbs in well-drained soil and water regularly. With proper care, your spider lilies should bloom beautifully year after year!
Growing Spider Lilies in Pots
Spider lilies are one of the easiest bulbs to grow in pots. They are also one of the most rewarding, with their large, fragrant flowers appearing in late summer just when other plants are starting to fade. Here are a few tips for growing spider lilies in pots:

Choose a pot that is at least 12 inches wide and has drainage holes. Fill the pot with a good quality potting mix or combine equal parts peat moss, perlite, and sand. Set the bulb in the pot so that the top is about 2 inches below the rim of the pot.

Add more potting mix around the bulb, being careful not to damage it. Water well. Place the pot in a sunny location outdoors or under fluorescent lights indoors.

Keep the soil moist but not soggy during active growth periods (spring and early summer). Fertilize monthly with a balanced fertilizer such as 10-10-10. After bloom, allow the foliage to die back naturally then reduce watering and withhold fertilizer until fall when you can repot into fresh mix if desired.
Credit: www.youtube.com
Should Spider Lilies Be Cut Back?
Spider lilies are one of the most popular bulbs for gardens, and they are also one of the easiest to care for. Many gardeners choose to leave their spider lilies in the ground year-round, but others prefer to cut them back after they bloom. If you're not sure what to do with your spider lilies, here is some information that may help you make a decision.

There are two main reasons why gardeners choose to cut back their spider lilies. The first reason is aesthetic: many people feel that the plant looks neater and more tidy when it is cut back. The second reason is practical: cutting back the plant helps to prevent it from spreading too rapidly and becoming invasive.

If you decide to cut back your spider lily, it is important to do so carefully. The best time to trim the plant is immediately after it has finished blooming. Use sharp pruning shears or a knife to remove all of the flowering stems, cutting them as close to the ground as possible.

Once all of the flowers have been removed, you can either leave the foliage in place or cut it back as well. Some gardeners choose not to cut back their spider lilies at all, instead letting them die down naturally over winter and replanting them in spring. If you decide to take this approach, be sure to mark where your bulbs are located so that you can find them again easily come springtime!
How Often Do Spider Lily Bulbs Bloom?
Spider lily bulbs typically bloom in the late summer or early fall. However, they can also bloom in the spring if they are planted in a warm location. The blooming period lasts for about two weeks.
Can You Keep a Spider Lily Indoors?
Yes, you can keep spider lilies indoors. They are not fussy plants and will do well in most indoor environments. The key to success is to provide them with bright indirect light and to keep the soil evenly moist (but not soggy).

If you can give them a humid environment (such as by placing them on a pebble tray), they will thrive.
Are the Care Needs for Perennial Day Lilies and Spider Lilies Similar?
The care needs for perennial day lilies and spider lilies differ significantly. While both need sufficient sunlight and well-drained soil, perennial day lilies require regular watering and additional fertilization. On the other hand, spider lilies thrive in drier conditions and can tolerate neglect. Therefore, the care for perennial day lilies and spider lilies is not similar.
How Often Do You Water Spider Lilies?
Spider lilies are a type of bulbous plant that grows in a wide range of climates. They are native to Asia, but can be found in many other parts of the world as well. Spider lilies typically bloom in the summer months and their flowers range in color from white to pink to purple.

When it comes to watering spider lilies, it is important to not overdo it. These plants do not like soggy soil and will start to rot if they sit in water for too long. The best way to water spider lilies is to give them a deep soak once every week or two.

This will help the bulbs stay hydrated without drowning them. If you live in an area with high humidity, you may need to water your spider lilies more often than this.
Can Spider Mites on Orchids Affect Spider Lillies?
Spider mites on orchids can potentially harm spider lilies. To prevent damage, it's crucial to get rid of spider mites on orchids promptly. These minuscule pests, if left unchecked, can spread to nearby plants, including spider lilies, and compromise their health. Regular inspections and appropriate measures can help protect your precious orchids and keep your spider lilies spider-mite free.
Conclusion
Spider lilies, also known as crinum lilies, are a type of flowering plant that gets its name from its spider-like blooms. These plants are native to tropical and subtropical regions of the world, and they thrive in warm weather. Spider lilies require full sun and well-drained soil to grow properly.

When planting spider lilies, be sure to bury the bulbs at least 8 inches deep. Water the bulbs regularly during the growing season, but allow the soil to dry out completely between watering. Spider lilies can be propagated by dividing the bulbs or by seed.
Resources: